Becki and Jerry Falwell are at the center of Hulu's sensational documentary dubbed God Forbid: The Sex Scandal That Brought Down a Dynasty. In the production, Giancarlo Granda, a former pool attendant, details his alleged relationship with the couple.
Granda publicized the alleged affair in August 2020 by providing Reuters with screenshots, emails, and audio recordings of his interactions with the couple. Giancarlo refused to give more details, saying that his book, Off the Deep End: Jerry and Becki Falwell and the Collapse of an Evangelical Dynasty, and the documentary would reveal all the raunchy details. The documentary certainly doesn't disappoint.
Becki and Jerry are still together after Falwell forgave her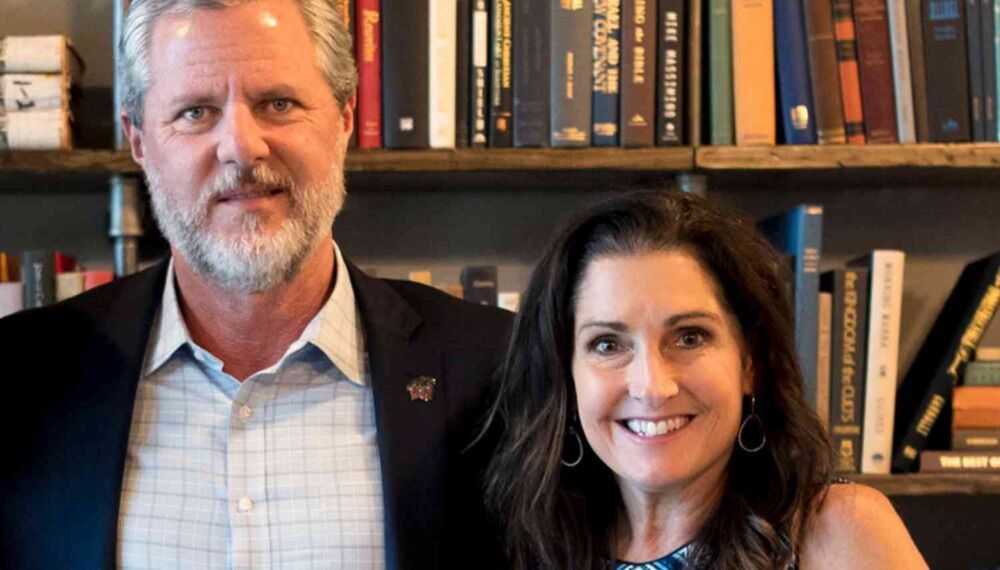 Jerry Falwell Jr. and Becki Tilley married in 1987 – and 35 years into their marriage, the couple is still going strong. Scandals involving infidelity often topple marriages, but Jerry and Becki decided to tough it out together.
The details about Becki's affair with Giancarlo Granda remain unclear – Giancarlo claims Jerry was involved, but the Falwells insist Jerry played no part in the relationship. However, in both narratives, Jerry knew about Giancarlo's dalliance with Becki – and he let it continue.
"The only way I could do it was to detach," Jerry told Vanity Fair in a joint 2022 interview with Becki. "I let it go on. I'm partly to blame." Granda claimed that Jerry watched and taped the couple having sex, but Jerry said he only walked in on the couple having sex once. "It was traumatizing," Jerry said.
Becki kept up her romance with Granda because it was thrilling. She said: "It's that dopamine rush. All of a sudden this young, handsome fella starts texting you and giving you attention and you're like, wow, this is kind of nice."
One of Becki's biggest regrets was that by marrying early, she missed college life. The salacious affair gave her a taste of the life she could have had over two decades earlier. Eventually, the relationship between Becki and Granda ended. When the news of the affair broke, the fallout was perhaps worse than the Falwells expected.
Nevertheless, through the power of forgiveness, the couple remained together. "We're together more than any couple you will ever meet in your life," Becki told Vanity Fair. "He forgave me, and that's what Jesus teaches, forgiveness."
Jerry talked to the Examiner about forgiving his wife: "Becki and I forgave each other because while her indiscretion may have been more obvious and apparent, I realized that there were important smaller things I needed to do better too."
Falwell Jr. admitted that the affair took a mental toll on him, but he recovered after seeking help. "The trauma of this experience has brought us to a very challenging point in our lives, but we are strong," Jerry added.
Becki faced accusations of forcefully giving oral sex to her son's bandmate
Becki and Jerry Falwell were all smiles when they attended a Liberty Flames football game in October 2022. The pair's togetherness beggars belief as Becki faced an additional accusation of sexual assault.
In August 2020, Politico published the account of a former Liberty University student who claimed Becki Falwell forcefully performed oral sex on him when he was her son's bandmate. The accuser further claimed that Becki continued harassing him through Facebook messages.
"She was the aggressor," he told the outlet. He sent Politico screenshots of messages allegedly sent to him by Becki Falwell. One of them read, in part: "You don't want to cover up those killer eyes of yours and you know the bandana drives me wild."
The student said that Becki's sexual advances towards him started when he and his bandmates started practicing in the Falwell residence. He rebuffed the attempts until Becki forcefully gave him oral sex before he went to bed in a guest room in the Falwell home.
The student suffered severe mental distress as he didn't want to tarnish the Falwells, a family revered in his North Carolina home. "It made [him] feel bad," a former bandmate told Politico. "It was a depressing thing; he struggled with depression [afterwards]."
"I don't want to be a homewrecker," the accuser said. "That took a toll on the soul." According to the Politico report, the accusations would likely have stayed buried without Giancarlo's revelations. Jerry and Becki Falwell denied the former student's allegations:
"It is unfortunate that the coverage of our departure has turned into a frenzy of false and fantastic claims about us. These false and mean spirited lies have hurt us and our family greatly and we will respond fully with the truth at an appropriate time."
The accusations show Becki contravened Liberty University's code, which prohibits employees from having sexual relationships with students and having 'inappropriate' relationships outside marriage. Liberty University senior vice president Scott Lamb told Politico:
"Becki Falwell was an employee in 2008 and such policies would have fully applied to her as spouse of the then-university Chancellor and President."
Jerry will need Becki's support as he fights a lawsuit filed by Liberty University. The institution claims Falwell Jr. withheld damaging information as the parties negotiated an employment agreement. It seeks over $10 million in damages. "This lawsuit is full of lies and half truths, and I assure you that I will defend myself against it with conviction," Jerry told NPR.
---