George Kittle has established himself as one of the best tight ends in the NFL. The NFL Championship narrowly evaded George and his teammates in 2020, but many consider him to be a future champion.
Like most San Francisco 49ers fans, George Kittle wife, Claire Till, couldn't wait to return to the team's Levi's stadium following the relaxation of Covid-19 rules. "Man does it feel good to be back in this stadium," Claire captioned a series of photos taken inside the expansive arena.
One of the photos posted by Claire show her kissing George, who features a lot on her Instagram page.
Claire and George met during her freshman year in college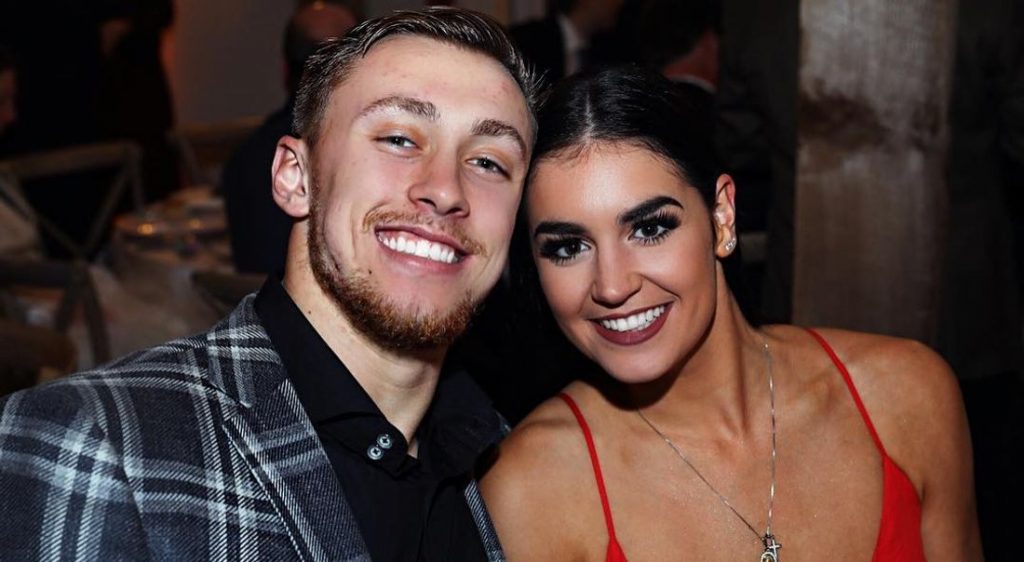 Claire Kittle was born in 1994 in Dubuque, Iowa. She attended the University of Iowa after graduating from Wahlert High School. Claire met George during their freshman year in college. George approached her as she was heading to basketball practice on her moped, and complimented her bright pink helmet.
George and Claire became friends after that moment, and the friendship quickly blossomed into romance. George and Claire were a couple throughout college.
George proposed to Claire during a fake team photoshoot
George wanted to surprise Claire with his proposal, and so he decided to invite her to a fake team photoshoot. He told her that the 49ers had planned a photoshoot for the players and their wives and girlfriends for the team's brochure and website. George planned with the team's head photographer and video editors to have a fake photoshoot.
Kittle stated on 95.7 The Game that he distracted Claire before popping the question; "We were doing a whole photoshoot on the beach, cameras, we had a drone down there, lighting, everything that you possibly need. Got her a little bit distracted and then cut to pop the question. It was pretty awesome."
Thankfully for the couple, Claire said yes and wedding preparations began.
Claire and George fast-tracked their wedding by one year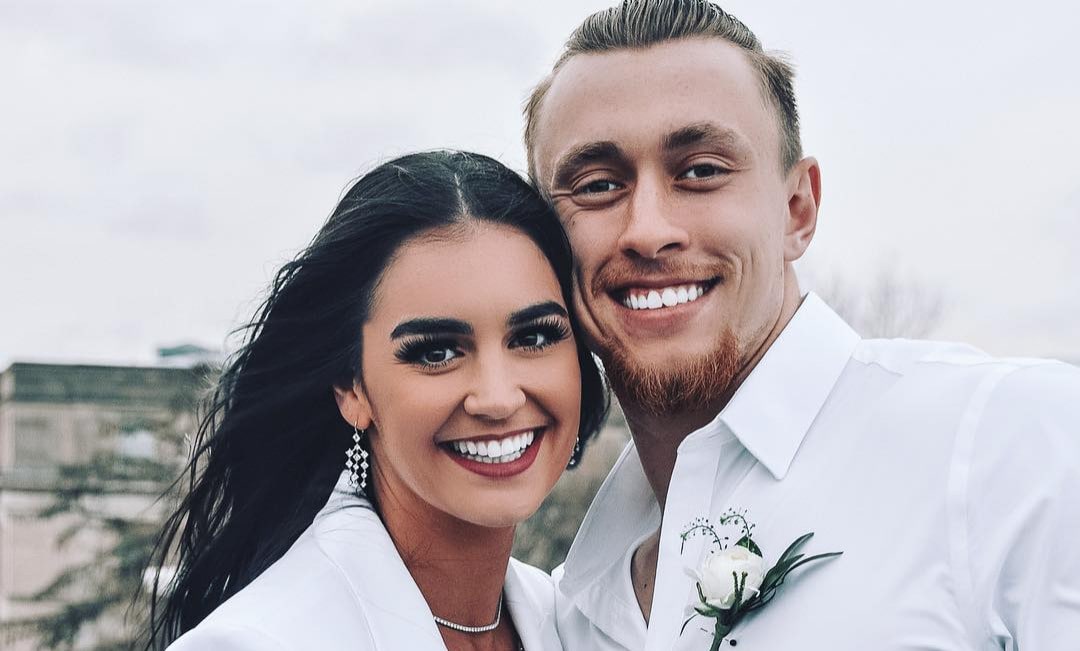 George and Claire got engaged in August 2018, and they were planning for a big wedding in 2020. However, the couple opted for a smaller occasion with family on 10th April 2019. The wedding took place at an Iowa City jewelry store owned by family friends. George's father is ordained, and he conducted the ceremony. Kittle's mom was the photographer.
Claire shared the news and expressed her joy via a message posted on Instagram. She posted a picture of the couple, and attached the following caption;
"I love you I love you I love you! We pulled off a one of a kind wedding, thank you for gifting me this unexplainable love. I'm yours forever. Claire Kittle & I mean it. I got a HUSBAND y'all!!!"
It later emerged that George commemorated his wedding day by getting a tattoo of the Joker. He spent the day before the wedding getting the tattoo inked on his arm. Claire told ESPN that she was initially against the idea of the tattoo. She said;
"So at first, I was like, 'Oh my gosh, that's the worst idea you've ever had. I hate that.' But then after he had explained to me, all of the meaning behind it, and then seeing it in person, it's actually really cool. So I do really like it now. That's just George."
Claire did most of the work as the couple renovated their Nashville property
In early August 2021, George partnered with USAA and ESPN to debut his freshly renovated Nashville property. In a subsequent interview with Niners Nation, George revealed that Claire's creativity inspired most of the construction and decoration work.
"What was really fun is how creative she gets and how much she loves to do the interior of our houses and stuff," George said. "She always does that. But just how much she just loves doing it. Honestly, she did a fantastic job with our home."
George and Claire plan to say in Nashville for a while. "It's a place we're going to be for a while, and she was very excited about that," George added.
She seems to have swapped fitness training for blogging and travelling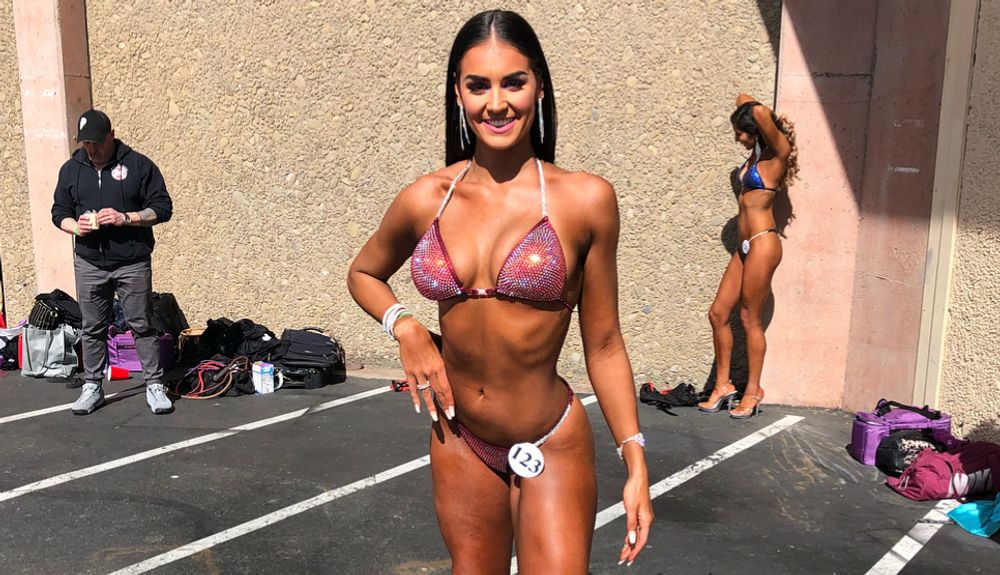 Claire has been obsessed with fitness for most of her life, and she graduated with a bachelor's degree in health and human physiology. She was also an ambassador for health and wellness with the Fuel UP to Play 60 program in campus. The goal of the program is to inspire young people to reach their fitness goals.
After graduating, Claire signed on with JE Models as a fitness model. You can peep her awesome body on her Instagram page. Claire has also turned her passion for fitness into a business venture. She used her entrepreneurial skills to start her fitness training business. She is the owner of Claire Till Fitness.
The business is based in her hometown of Iowa City. The business is up, but she has been struggling to keep it running after moving from Iowa to be with her husband in California.
Blogging and documenting travels seems to have taken precedence over fitness training. Claire's blog, Lettey Set go, contains travel tips, fashion advice, and much more. She writes:
"It [the blog] has evolved over the last two years. I want to show and share with you, and all my tips & tricks, the should nots and would nots, the definitely's and maybe's, and all of the ins and outs I've learned in my 24 years on this earth. You'll find travel inspo, where to go, when to go, and how to do it right."
---