Antonio Tavaris Brown is an American football player who is currently a free agent. Brown played college football at Central Michigan University before the Pittsburgh Steelers drafted him as a sixth round pick. In his rookie season, Antonio led the Steelers to the Super Bowl, but the team lost to the Green Bay Packers. For nine seasons in a row, Antonio racked up more receptions than any other player in the league.
In 2019, Antonio became the league's highest-paid receiver after moving to the Oakland Raiders. Antonio's spell with the Raiders ended before he played a regular game. The team let him go after a series of off-the-field controversies. Antonio joined the New England Patriots, but he only played one game before the team terminated their contract with him.
This piece will look at Antonio's love life. We can confirm that he is not married
Antonio allegedly proposed to his baby mama Chelsie Kyriss three months after he'd filed a lawsuit seeking to have her evicted from his home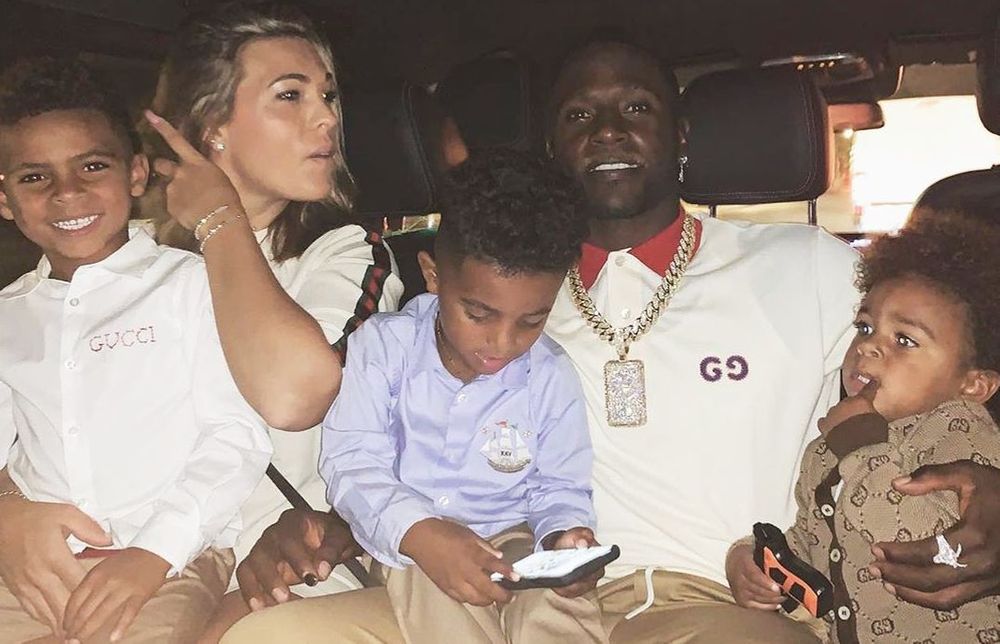 In late 2019, Antonio hit the headlines after filing a lawsuit seeking to evict his baby mama from his Florida home. In the suit, Brown referred to Chelsie as a 'former girlfriend' who had refused to leave his residence. Chelsie retaliated with a lawsuit seeking primary custody of her children and child support. Antonio and Chelsie have three children, and she has two kids from another relationship. Chelsie wrote in a since-deleted post:
"Over the last few years I have stood at the side of my children's father Antonio Brown and watched the rise and fall of an incredible man and athlete. Our children and I have distanced ourselves from him and our former home."
In early 2020, Antonio was arrested following an altercation between him and his trainer. After securing his release, he vowed to change his attitude towards life. His lengthy Instagram apology read:
"Truly understand that I owe my wonderful kids and the mother @chelsie of my wonderful kids, The world Biggest Apology, for my public outbreaks through social media, and for the hurt that I may have took them through while on my emotional roller coaster that we all are faced with in life."
In February 2020, the feuding couple seemed to have reconciled after Brown shared a video on his Instagram story of Chelsie giving him a back rub. In early March 2020, Antonio posted another video on his Instagram story stating that he had proposed to Chelsie. A few weeks later, he revealed that the couple had set their wedding date for summer 2020 and that Chelsie was pregnant.
It's unclear whether the couple still plan to get married or whether Chelsie is truly pregnant. Antonio has two other children with his baby mamas, Shameika and Trice.
Antonio and singer Stephanie Acevedo dated for a short while during his court battle with Chelsie
On New Year's Eve, Antonio posted a photo alongside singer Stephanie Acevedo. It was alleged that Antonio and Stephanie were dating and that she'd moved in with him in Miami.
However, the rumored relationship didn't last long. It is reported that Antonio kicked Stephanie out of his house in his efforts to rebuild his relationship with Chelsie.
---