Adam Svensson hopes to shock the world by winning the green jacket at the Masters. Svensson was the surprise package at The Players Championship, storming to the lead halfway through the tournament. However, Svensson fell off, finishing outside the top 10. If he plays like he did in the first half of The Players Championship, Svensson's first taste of PGA Tour victory might come at the Masters.
Svensson's long-time girlfriend, Gabi Powel, helped him recover his form when he dropped out of the PGA Tour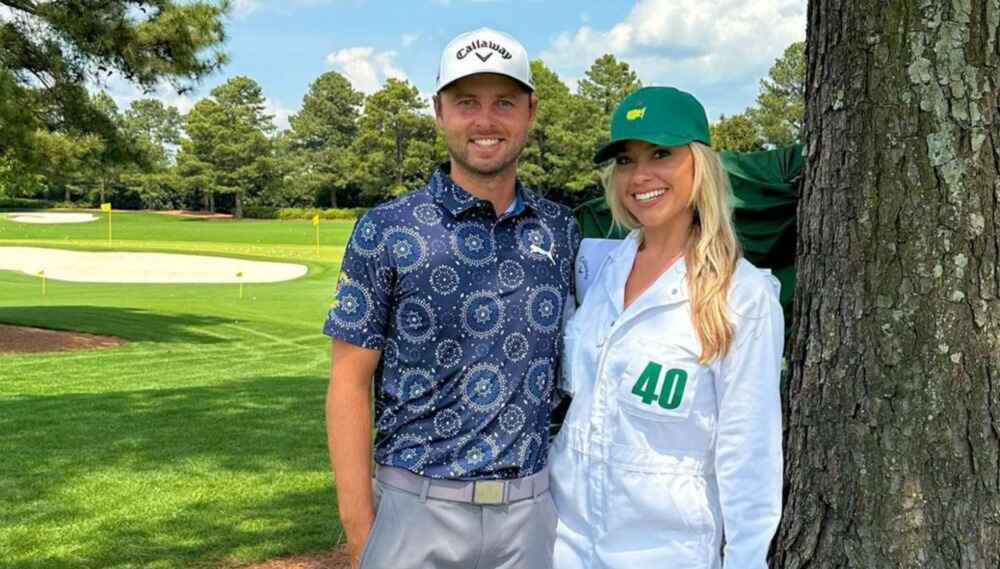 Adam Svensson is not married. However, he can count on the support of his long-time girlfriend, Gabi Powel. Powel caddied for Svensson at the 2023 Masters Par 3 Contest, a precursor of the Masters that involves the players' partners and family.
"Incredible day caddying for @svennybaby in The Masters Par 3 Contest," Powel captioned several Instagram photos. "The energy is like no other. I couldn't think of a better way to spend the birthday."
Powel is a crucial and omnipresent part of Svensson's team. She played a vital role in his return to the PGA Tour following his dismissal in 2020.
Svensson earned his PGA Tour card in 2018 and lost it in 2020 after a poor 2019 season. According to the Toronto Star, Svensson realized he needed to supplement his talent with hard work to preserve his status as a PGA Tour Golfer.
"I realized there are a thousand Adam Svenssons out there, all of them as good as I am," Svensson said. Svensson adopted healthier habits and increased his hours on the green. Powel motivated him through this period of reinvention. She told the Toronto Star:
"I would say it's a night-day difference. When he initially lost his PGA Tour card in 2019, a light bulb kind of went on in his head. It was like, 'OK. I know what I need to do. I need to grind on it.' And he went full force. And to this day he is full-force grind. He does take it as seriously as a 9-to-5 job."
In an interview with PGA Tour, Powel said she can tell when Svensson is happy with a swing by reading his body language. Powel said she is proud of her boyfriend's progress following the lows of 2020. "He has grinded so incredibly hard, so he really deserves to be here," Powel stated.
"He'll never express anger; he's very, very level-headed. He's so motivated and determined to continue to play well on the PGA Tour and win again. I love that about him."
Powel is a professional long drive golfer who runs a YouTube channel about golf
Gabi Powel played collegiate golf at Florida International University in Miami. She is a professional long drive golfer, with her longest shot so far clearing 364 yards. Long drive golfers compete over who can hit a golf ball farthest.
In March 2023, Powel made it to the top 8 in the first World Long Drive event of the season at the Mesquite Sports Complex. Powel captioned a 13th March 2023 Instagram post:
"Made it to the final 8 with some good balls on the grid. Looking forward to gaining some speed for the next event in Hobe Sound next month (Home event) Huge thanks to all the support this weekend."
Powel told PGA Tour that she doesn't play professional golf. However, she hasn't lost her ability to sink balls. "The last time we [Powel and Svensson] played at Medalist, I rolled in six birdies that day and he was like, 'Are you kidding me?' You don't even practice and you're making all these putts,'" Powel said.
Powel has a YouTube channel about golf. She has taken a break from content creation: she uploaded her most recent video in September 2021.
---