Sarah Paulson is an American actor who shot to fame for her portrayal of Harriet Hayes in Studio 60 on the Sunset Strip, a role that earned Sarah her first Golden Globe Award nomination. In 2008, Sarah played Ellen Dolan in The Spirit, and a year later, landed a lead role in the ABC comedy series Cupid.
In 2011, Paulson made her first appearance in the anthology series American Horror Story. She's gone on to play different characters in most of the show's nine seasons and has won two Critic's Choice Television Awards for her work on the series. Sarah's portrayal of Marcia Clark in The People v O.J. Simpson earned her numerous plaudits and accolades, including a Golden Globe Award.
This piece will look at Sarah's sexuality and relationship with Holland Taylor. Sarah doesn't define her sexuality.
Sarah recently posted a heartwarming tribute to girlfriend Holland Taylor on her 78th birthday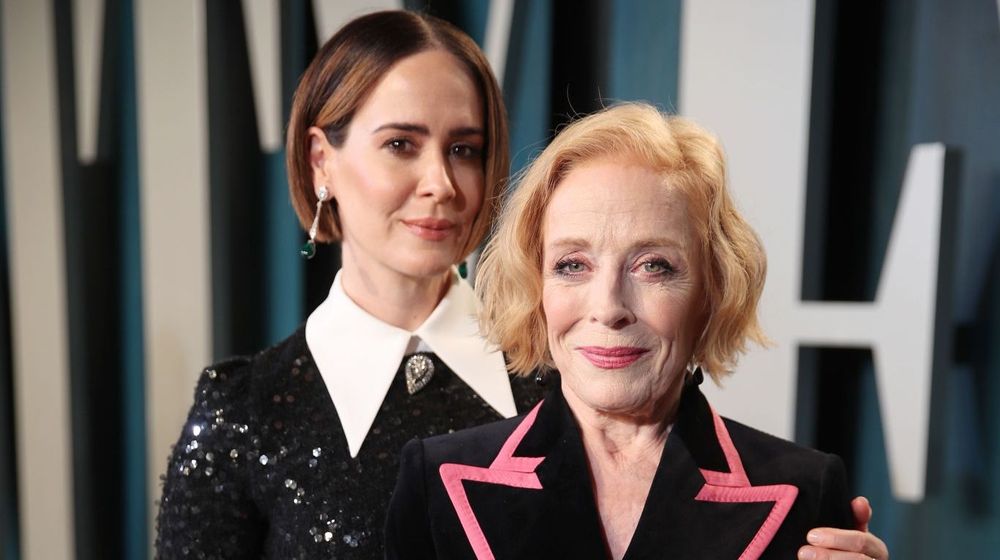 Sarah Paulson and Holland Taylor met at a dinner party in the mid-2000s. Paulson was in a relationship at the time, but she was nevertheless attracted to Taylor. She told The New York Times that Holland was 'probably the most exquisitely beautiful woman I'd ever seen.' A few years later, their paths crossed as they recorded videos for the reproductive rights organization, A is For.
They then followed each other on Twitter and started communicating via direct messages. Eventually, they went out to dinner and started dating. The reception to Sarah and Holland's relationship was unlike anything Sarah had ever experienced. She was used to tabloids looking at the negatives in every situation, but this time, the media and general public celebrated the couple's relationship.
Since then, there has been a sort of fascination from the public about Sarah and Holland that Paulson can't quite understand. "I think people are fascinated by it, because it's not so typical," Sarah told The Guardian. She thinks that the 32-year age difference between her and Holland might be the reason why their relationship is almost always in the headlines.
Paulson told The New York Times that she has always dated older people. "There's a poignancy to being with someone older," she explained. "I think there's a greater appreciation of time and what you have together and what's important, and it can make the little things seem very small… I can't say it any other way than there is a poignancy to it, and a heightened sense of time and the value of time."
Holland and Sarah's busy schedules have rarely been an issue. "We spend more time together than we do apart," Paulson told The Guardian. Holland recently turned 78, and Sarah was on hand to wish her partner a happy birthday. She posted a black and white photo of Holland alongside the caption:
"All roads lead me to this face, those eyes, that soul. You are, quite simply – everything to me. Here's looking at you, kid. Today. Tomorrow. Always. (If you don't like this picture, you are an idiot, so don't get mad when you see it. I even made it black and white since you prefer it. So shhhhh. It's a perfect picture of a perfect person) HAPPY BIRTHDAY DARLING."
Sarah came out by mistake when she kissed Cherry Jones during the 2005 Tony Awards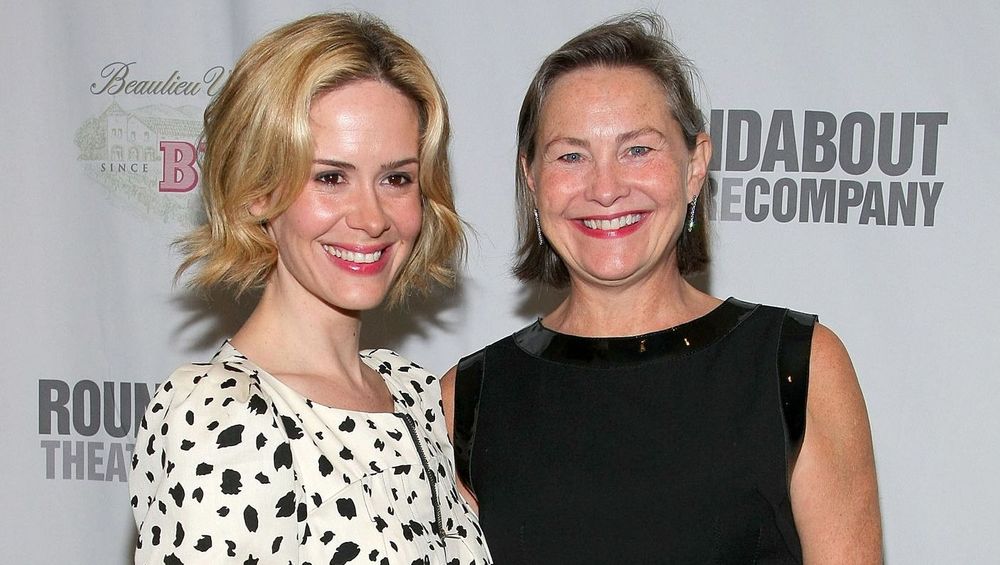 Paulson and Cherry Jones started dating in 2004. They went public in a manner that Sarah described as 'very accidental' – Sarah kissed Cherry flush on the lips as Cherry went to pick up her Tony Award in 2005. Looking back, Sarah feels like it was a wrong move, but at that moment, it felt completely right. She told PrideSource:
"I was very young, and I was in love. It was the reality of the person I was with. She just won a Tony Award – I'm not gonna pat her on the back, give her the big thumbs up and say, 'Go up there and get your award, sweetie.' It was not a really conscious thought. I didn't think of what the implications were gonna be. I just did what was true and honest to me in that moment."
The unfortunate effect of the kiss was that it put Paulson and Cherry in the public limelight. Their private lives became the public's main focus – something Paulson has always tried to avoid. She told PrideSource that she desires that her private life doesn't affect how people see the characters she plays or the stories she tries to tell through the characters.
Paulson's relationship with Cherry taught her to filter what she gives out to the public in terms of her personal life. She told PrideSource that Cherry hurt her with some of the public comments she made following their 2009 breakup:
"But I think it was hard a bit because when she and I broke up (in 2009) there were some public statements said by her in, I think, an accidental way that ended up being hurtful to me, so I've been very kind of careful now what I'm willing to talk about in terms of specifics."
Sarah doesn't label her sexuality and feels that celebrities shouldn't be pressured to be LGBTQ activists
Sarah Paulson is yet to label her sexuality because she fears that it might change anytime, and she doesn't want to face the public's wrath if it does. Paulson has dated both men and women and doesn't feel the need to be defined by relations with either gender. It's relatively unknown that Sarah was engaged to actor Taylor Letts (a man) before she dated Cherry Jones. She told PrideSource:
"All I can say is, I've done both, and I don't let either experience define me… So, for me, I'm not looking to define myself, and I'm sorry if that is something that is seen as a rejection of or an unwillingness to embrace (my sexuality) in a public way, but it's simply not. It's simply what's true for me, and that's all I can speak to."
Most LGBTQ+ celebrities are activists for the community, and Sarah understands why it is important that such voices advocate for equality and acceptance. However, she doesn't believe that every LGBTQ+ celebrity should be pressured into activism. She reasons that it should be an independent decision based on each person's experiences and reality. Sarah explained:
"But my reality is different than your reality. I have had different experiences… I just don't think anyone is in a position to dictate what that is for me. I understand why the call is what the call is, and that's also why I don't hide it. I don't pretend it's not true. It's just, I have to be honest about what's true for me, that things kind of coexist."
---