Joseph Glenn Herbert (known professionally as Jo Koy) is an American stand-up comic. Jo credits his mom for motivating him to pursue comedy. He launched his stand-up career at a comedy club in Las Vegas. After performing at the MGM Grand Hotel and Casino, Koy rented the Huntridge Theatre and started selling tickets to his show.
His popularity skyrocketed after appearing on BET's ComicView. He won the Showtime at the Apollo and appeared on various stand-up special. In 2005, Jo became one of the few entertainers to receive a standing ovation on The Tonight Show with Jay Leno. Jo Koy has several Netflix and Comedy Central specials.
Jo Koy remains close friends with his ex-wife Angie King
Jo Koy and his ex-wife Angie King married and welcomed their son Joseph Hebert Jr. in 2003. Unfortunately, their marriage didn't work out, and they divorced.
However, the divorce didn't affect the nature of their relationship. They remain close friends and amicably co-parent their son. Ko told Fatherly:
"My and my son's mother, we've been divorced for a while but we've been really great parents. We're good friends, we're very relaxed when it comes to our son's time with one another. We have an open door."
Koy's close bond with his son comes out during his stand-up routine. He regularly pokes fun at Herbert Jr., but it's clear that they have a great relationship. Jo's father left when he was 10, and to make matters worse, he took his whole side of the family with him. "I have that name, my last name is Herbert, but I don't know them," he told Fatherly.
Jo doesn't blame his dad for leaving – the family had deeper issues, he says – but he believes that abandoning the family was a mistake. Koy is committed to being in his son's life as much as he can. He told Fatherly:
"I learned from my dad's mistakes. I think that's why I'm so into my son. I bring him lunch every day. McDonald's, Taco Bell, whatever junk food a kid likes, I will bring it for him. I've cancelled gigs so I could be at moments for him. That wasn't a big thing for my dad. I don't want my son to feel the way I felt."
Jo Koy has been very secretive about his love life since his divorce
It is rare for a comedian to censor himself, but Jo Koy has chosen to keep his love life away from the limelight. He even avoids the topic on his stand-up routines. Why? You may ask. Well, Jo told Sway's Universe that he doesn't like his love life appearing in the media:
"I just don't really talk about who I am dating or anything like that. I just hate it because, you know, they start to pry and they start to post and I hate that."
Despite the secrecy, Jo hasn't avoided relationship rumors. In 2018, Jo was rumored to be engaged to Amy Bray. More recently, Jo has been linked with actress and singer Tia Carrere.
Koy is rumored to be dating fellow comedian Chelsea Handler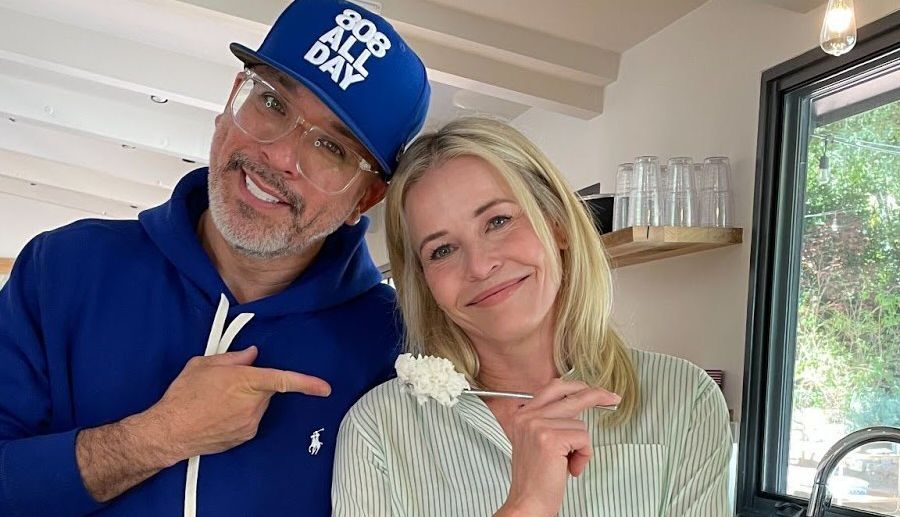 Over the past few months, Jo and Chelsea Handler have sparked dating rumors due to their numerous social media posts together. 
In August 2021, the pair were spotted looking cozy at a LA Dodgers game. Koy threw the first pitch with Chelsea serving as his coach. He refused to confirm whether the couple was dating when questioned about it by TMZ. "Yeah, I don't know how to answer that," Koy said. 
He, however, talked up the couple's friendship. "How beautiful did she look that day?" Jo said. "Me and Chelsea, yeah, she's amazing. I've known Chelsea for a long, long time – I mean a long time, like years ago – and we've always been great friends."
Chelsea seems to be enjoying spending time with Koy if her latest social media post is anything to go by. She posted a photo alongside the following caption:
"Just sitting here thinking about how grateful I am to have so many people that I love in my life, to live the life I do and to be going on tour doing what I love. And that I'm finally in love, with the best kind of guy there is. There is hope for everyone! That kind of stuff."
---