Tiffany Hall and Jimella Tunstall were so close that they referred to each other as cousins, despite being unrelated. The quiet loners gravitated towards each other at school, forming a bond that Hall would break in the most bizarre fashion.
Tiffany and Jimella's lives mirrored each other – they both got pregnant as teenagers. Media reports claim that Tiffany, with two of her children, babysat Jimella's three children. 
In 2006, East St. Louis, Illinois, was synonymous with all manner of violent crime fueled by crippling poverty. St. Clair County coroner Ace Hart told Deseret News that he'd seen his fair share of gruesome murders, but Jimella's murder at the hands of Tiffany hall 'was very graphic and very brutal'.
Tiffany killed Jimella and her unborn child before drowning Jimella's three children
It's unclear why Hall targeted Jimella's fetus, but she told the police that she 'had contemplated taking Jimella's unborn child for quite some time'. According to St. Clair County State's Attorney Robert Haida, Tiffany bought a sharp object, rubbing alcohol, and a nasal aspirator in preparation for the attack. 
In mid-September 2006, Tiffany struck Jimella repeatedly with a table leg before cutting Jimella's fetus from her womb in a bathtub. After Jimella bled to death, Tiffany dumped her body in a weedy lot. 
Tiffany called emergency services to the Frank Holten State Park, where police found her clutching a dead baby. Tiffany said she'd delivered the child stillborn but refused to let doctors examine her and gave conflicting accounts of the events that triggered her labor. 
The following day, the authorities started a frantic search for Jimella's three children – DeMond, Ivan, and Jinella – who were last seen with Tiffany. She had visited the father of Jimella's children and lied to him that Jimella wanted to pick up the children. The father said it was the last time he saw the kids. 
Volunteers and law enforcers searched the area tirelessly but found no evidence of the children. Illinois State Police Captain released an optimistic message, telling reporters that the police believed the children were alive.
All hope of finding the kids alive was erased when Tiffany 'fessed up where the kids were.' The stench of rotting flesh greeted the authorities when they returned to Jimella's apartment. They'd visited the apartment earlier to look for photos of the children but hadn't considered searching the apartment for them. 
Tiffany had placed DeMond's 55-pound body in the dryer; she stuffed Ivan and Jimella's lifeless bodies in the washer. Haida said Tiffany drowned the children in the same bathtub where she killed their mother. 
"Our hearts go out to the family and friends," police captain Craig Koehler said. "Any time you have three deceased children, it's a very emotional time. All these investigators have worked tirelessly with one outcome in mind – to find these children alive."
Hall was sentenced to life in prison after pleading guilty to the murders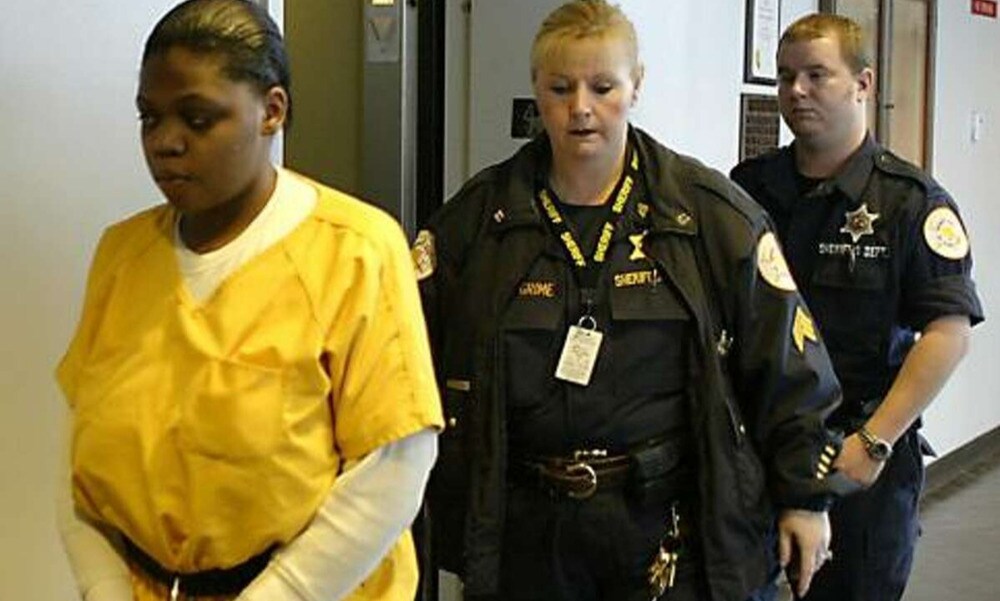 Despite Tiffany Hall refusing to let specialists examine her and her conflicting accounts of the stillbirth, the authorities didn't suspect her of committing a crime. "We didn't even figure it was a homicide," coroner Hart said.
Mortuary director Levi King told Deseret News that he felt something was amiss when Tiffany called minutes before the funeral service asking if she could reschedule. Tiffany arrived two hours late. "That's never happened before," King said. 
During the service, She confided in her boyfriend that she'd killed a pregnant woman and stolen the fetus. Tiffany's partner, a military man on leave, told the police, who arrested Tiffany. 
To avoid the death penalty, Tiffany pleaded guilty to four counts of murder and one charge of intentional homicide in the death of the fetus. The court sentenced Tiffany Hall to life in prison without parole. 
Some of Jimella's relatives, including her mother, Sandra Myers, said they'd forgiven Tiffany. "I have to forgive her," Myers said, adding that taking her life wouldn't have been justice for losing four lives. 
"I'm just glad we can move forward," LaDonna Tunstall, Jimella's stepmother, told The Chicago Tribune. "I hate the fact the kids are dead. At least they're at peace and with their mum. God is going to have to deal with her [Tiffany]."
Over the past decade, Tiffany has challenged her sentence several times. Several months after her conviction, she moved to withdraw her guilty plea, but the judge denied her request. In 2012, Tiffany petitioned for post-conviction relief, alleging that her lawyers failed to investigate her mental health.
According to FOX News, James Gomric, one of Tiffany's attorneys, said she was mentally fit to stand trial but had unresolved mental health issues and an IQ in the mid-70s. 
Tiffany has won some battles in court: she convinced the Fifth District Appellate Court that her post-conviction lawyer didn't amend her pleadings to incorporate allegations of insufficient assistance of counsel against her trial lawyers. However, she is unlikely to get another trial or have her sentence reduced.
Read Next: Mitchelle Blair's story — Her shocking crimes
---