Paeka Campos and Gero Hanirias were one of the most famous internet couples in the world. Since they started their relationship in October 2017, they have accumulated massive followings across YouTube, TikTok, and Instagram. Campos has 1.8 million followers on TikTok, and Gero has over 480k followers on the platform.
Gero and Paeka ran a YouTube channel titled Gero & Paeka, where they posted pranks, challenges, and general couple's content. Unfortunately, the couple seems to have called it quits, and it's looking ugly. Read on to find out more about the drama surrounding Gero & Paeka's breakup, Amador's alleged involvement in the saga, and Paeka's career goals.
Paeka alleges that her relationship with Gero ended because he cheated on her
Paeka announced the end of her relationship with Gero in mid-February 2021 via Instagram Stories. The couple had gone an unusually long time without posting, and there were rumors that all was not right between them. Paeka confirmed fan suspicions by writing:
"Hey guys. Wanted to come on here because I know a lot of you have been worried [and] curious about where [and] how I've been. I was just not ready yet to have all the pain out there for what feels like the whole world to just watch [and] form their own opinions on. But yes, Gerohan [and] I broke up. In the most respectful way we are going to go through this privately off of social media and take time to heal [and] focus on self-love."
Campos did not give a reason for the couple's breakup, and true to her message, the couple kept any drama they had off of social media – but only for a couple of months. In early May 2021, Paeka ignited the flames of a saga that would dominate the internet by liking a comment under one of her videos that suggested that women are unfairly criticized for walking away from a cheating partner.
Gero responded via an Instagram video, in which he stated that he felt the need to 'clear his name.' "I have been quiet about the whole situation because me and Paeka agreed to keep things private, but she has been bashing my name for weeks now, but I have to speak up and defend myself," Gero said.
The social media star went on to explain that the only time he thinks he was unfaithful was in 2017 when he met with a friend from middle school. "This was never physical or never sexual," he explained. "Me and that other person never kissed or anything."
Paeka responded by insisting that Gero cheated and that her only intention was to let people know the truth about his infidelity. "I have literally told my truth about you being unfaithful," Campos said before suggesting that there is more drama in store. She then promised to make a YouTube video about it:
"That was not the only time you were with other girls when we were together and you are still talking to them now. I am going to make a YouTube video about this soon because now you are flipping it, talking about, 'We know exactly what happened in Houston.' This shit just makes me so upset because you know exactly what you are doing. We both really know what happened."
YouTuber Amador claims that he had a fling with Paeka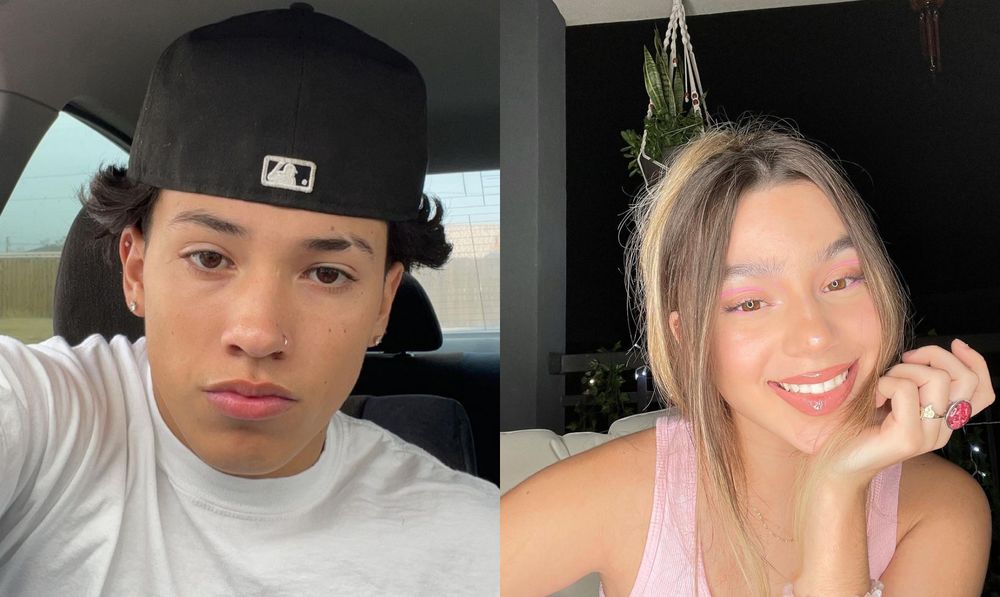 The saga between Gero and Paeka got a whole lot more interesting after Amador claimed that he had a fling with Paeka. Again, the drama started in the comments section of a social media post. Under a dancing video posted by Amador, one user asked why he didn't hold the lady in the video similar to how he held Paeka in a prior video.
Amador stated that Paeka requested to be held more intimately. "Lmao um?? False," Paeka responded. Amador responded swiftly via a tell-all YouTube video titled The lies must be stopped. In it, he talked about his fling with Paeka and gave evidence to support his claims. He then pleaded with Peaka to come out and tell the truth. Amador said:
"Just stop lying please. Tell the truth. Own up to your shit. Your supporters love and care about you so much. You don't need to lie to them, especially if it's to make other people look bad. I don't think she lied about her ex cheating, but I have a feeling that she is hiding some shit too. If he did cheat, at least own up to your shit and fucking be a man and face the consequences. Who knows? They are probably both lying."
Could Gero and Paeka be faking the whole thing to get attention? Amador isn't ruling it out, and neither are we. We are fairly certain that there is another chapter to this narrative that might unfold soon. We will keep you posted about any developments.
---