Sandra Birchmore was found dead by police in her apartment in Canton on 4th February 2021. The authorities were performing a wellness check sought by her employer, Sharon Public Schools, which reported that Birchmore had missed several days of work.
The Office of the Chief Medical Examiner found that Sandra died by suicide and confirmed she was pregnant, but the death certificate didn't state her father's identity.
Sandra's suicide confounded her family. "She had always wanted to be a mother," a family member told The Boston Globe. "She was having this child. Why would she kill herself?"
Sandra endured a lot of loss, with the love of law enforcement being the only constant in her life
Sandra Birchmore endured a lot of turmoil in her early life: she never knew her father and lost her grandmother, mother, and aunt in the space of three turbulent years.
The only constant in Sandra's life was her love for law enforcement. Unfortunately, the people she looked up to ended up taking advantage of her vulnerability and possibly contributing to her decision to commit suicide.
As a young teen, Sandra joined Stoughton Police's Explorers Program – a course for young people interested in law enforcement careers. Through the program, she met Robert Devine, the program's leader, and twins William and Matthew Farwell, who participated in various capacities.
Following an internal investigation into the officers' conduct, Stoughton Police Chief Donna McNamara told the press:
"Ms. Birchmore was a vulnerable person who had one constant in her life: An unwavering admiration for police officers, of those serving in the military. People in uniform. People with oaths and duties to protect and serve."
An investigation found three officers culpable of inappropriate relations with Sandra
"The admiration led her to form relationships with men willing to take advantage of her," McNamara continued. "The subsequent inquiries into her life and death revealed a deeply disturbing pattern of behavior towards her."
Matthew Farwell reportedly began having sex with Sandra Birchmore when she was 15. The age of consent in Massachusetts is 16, so his alleged conduct would have constituted statutory rape.
Two days after Sandra's death, Matthew admitted to having sex with Sandra in 2020 but said the relationship ended in October. Matthew was placed under administrative leave shortly after the discovery of Sandra's body. 
David Traub, a spokesman for Norfolk District Attorney Michael W. Morrisey, said that the probe into Sandra's death had uncovered 'allegations and circumstances' that merited further investigations.
The finding sparked a 'deeply troubling' internal probe that found Robert Devine and William Farwell culpable of inappropriate relations with Sandra. Devine had insisted he had no contact or relationship with Sandra, but investigators found inappropriate text conversations between the pair. 
"All three men, the Farwell brothers, and Devine, violated their oaths of office and should never have the privilege of serving any community as a police officer," McNamara said. "Through a sustained and deliberate combination of lies, deceit, and treachery, they violated the policies of the Stoughton Police Department."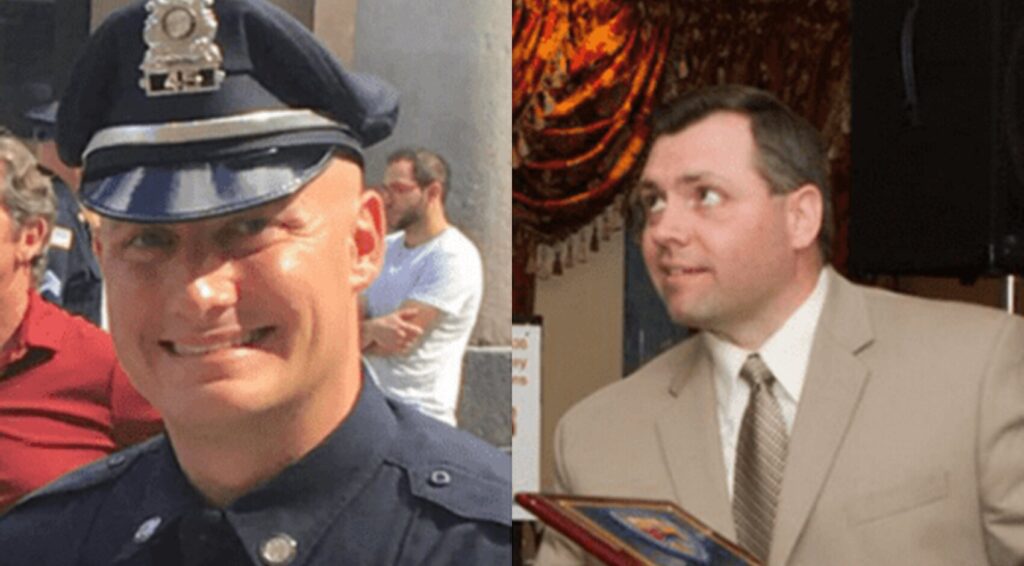 The report concluded that William tried to introduce Sandra to other men. Matthew, Devine, and William resigned from the department; McNamara called for the Peace Officer Standards and Training Commission to decertify the officers, preventing them from acquiring law enforcement jobs in Massachusetts. 
McNamara added that a police officer from Abington Police Department and a military recruiter also had inappropriate relations with Sandra. A statement from Abington Police Chief David Del Papa obtained by NewsCenter 5 said the Stoughton report had sparked an Internal Affairs investigation of the officer's conduct.
Sandra's aunt filed a wrongful death suit against the three officers
Following the release of the damning report by the Stoughton Police Department, Sandra's aunt filed a wrongful death suit against the three officers, whom she accused of pushing her to suicide through 'grooming and repeated sexual assaults from a young age.' The complaint read:
"[The Farwell brothers and Devine undertook to engage in inappropriate relationships with [Birchmore] who was a minor when the sexual relationships were initiated, abusing her trust and adoration of law enforcement, which through their inappropriate and undue influence, ultimately led her to allegedly take her own life."
Matthew Farwell, the alleged father of Birchmore's unborn child, was the last person to see Sandra alive. According to State Police records, Matthew visited Sandra on 1st February 2021. Matthew told investigators that he told Birchmore he wasn't the child's father, ended his relationship with her, and blocked her from all communication platforms.
The report described Birchmore and Matthew's last communication as a 'nasty, nasty argument.' Per The Boston Globe, Matthew's wife gave birth to a boy on 2nd February 2021.
"He [Matthew] played no role in her death and the District Attorney charged him with no crime in connection with her death or otherwise," Patrick Hanley, Matthew's attorney, told the Boston Globe. William and Devine didn't respond to the outlet but had previously denied wrongdoing.
The wrongful death suit also accuses the Town of Stoughton and its Police Departments of negligent hiring and infliction of emotional distress. It seeks both judgment and an unspecified amount of damages.
The Farwell brothers and Devine are yet to face criminal charges. Despite allegations of statutory rape and other offenses, it would be difficult to secure convictions without Sandra Birchmore's testimony. The District Attorney's office told Boston 25:
"State Police detectives and the medical examiner found no evidence of foul play in the death of Ms. Birchmore. The investigation to date has not developed a prosecutable statutory rape case against any individual."
Read Next: The Rachael Warrior story – How a killer was acquitted of all charges and walked free
---