Georgia Toffolo
Biography
Statistics
Age:

29 years old

Date of Birth:

October 23, 1994

Birth Place:

Torquay, Devon, England

Horoscope:

Scorpio

Full Name:

Georgia Valerie Toffolo

Occupation:

Media Personality,Reality-TV star

Height:

5 feet 4 inches

Nationality:

British

Ethnicity:

White
About Georgia Toffolo
Georgia Toffolo is a British TV and media personality best known for her star- role in the 2014 BAFTA award-winning reality-TV series titled, Made in Chelsea.
Toffolo also attracted a lot of popularity when she emerged the winner of the 17th series of British survival reality TV game show 'I'm A Celebrity… Get Me Out of Here!
As from 2018, Georgia Toffolo has been involved in various media projects including working as a reporter in the British TV program titled This Morning.
Read on to know more details relating to her bio, dating life and past boyfriends, career, net worth and much more!
Georgia Toffolo's Bio
Georgia Toffolo was born as Georgia Valerie Toffolo on 23rd October 1994 in Torquay, Devon, England. She holds the British Nationality and belongs to the white ethnicity.
Toffolo has been raised in England by her parents Nicole Toffolo and Gary Bennet. Information on the existence of Toffolo's siblings or whereabouts is, however, unavailable at the moment.
To overview her education, Toffolo has attended a number of schools in Britain including Stoodley Knowle Independent Catholic Girl School in Torquay, Grammar School for Girls, The Maynard School, and Blundell's School.
After the completion of her school education, Georgia Toffolo enrolled at the University of Westminster to pursue LLB law degree. She, however, dropped out after realizing it was not her true calling.
Afterward, she took several jobs and even did voluntary work which included helping out at an old people's home and charity shop.

Georgia Toffolo's Career
Georgia Toffolo's Career journey as a reality TV star started with her appearance in the 2014 BAFTA award-winning reality-TV series titled, Made in Chelsea. The structured reality-TV series chronicles the lives of affluent young people in West London and South West areas of Belgravia, Chelsea, Kings Road, and Knightsbridge.
Toffolo featured alongside other contestants such as Aurelie Mason-Perez, Riley Uggla, and Ed 'Fordy' Ford in the debut series.
Georgia worked at The Lady Magazine during the eleventh series of the show. In January 2015, fans of Made in Chelsea saw her start working at the Centre think tank called Parliament Street as the head of events.
She, however, left after a 4-year stint on the series in order to pursue more TV work.
In 2017, Georgia took part in the 3rd season of British reality-TV dating program 'Celebs Go Dating' where she featured alongside other contestants including Bobby-Cole Norris, Courtney Stodden, Calum Best, and Charlotte Dawson, among others.
In the show, the participating contestants are expected to date each other and see if they will develop any special bond with anyone. After the entire show, Georgia Toffolo bonded with only one contestant named Jackson with whom she even went to a second date with.
The two shows, Made in Chelsea and Celebs Go Dating exposed her to the public eye thus increasing her popularity.
Georgia Toffolo made her real breakthrough in her career when she appeared in the 17th season of 2017 British survival reality TV game show titled 'I am a Celebrity…Get Me Out Of Here!'
Toffolo emerged the winner of the contest after beating her fellow contestants Jamie Lomas (actor) and Iain Lee (comedian/writer). She was crowned Queen of the Jungle after winning the nation's heart with her sunny personality and positive nature.
Her success propelled her popularity further and reportedly attracted a massive following on her various official media profiles.
As of 2018, Toffolo was working in the British daytime program titled 'This Morning' as a reporter. She also recently took part in the 2018 National Television Oscar Awards as a backstage reporter.
Besides her debut career as an internet personality, Georgia Toffolo also enjoys writing and is an upcoming author. In late 2018, she announced the release of her first book, Always Smiling: The World According to Toff – where she reveals that she was bullied at the age of 12.

Georgia Toffolo's Personal life
Georgia stands at a height of 5 feet 4 inches and weighs approximately 52 kg. She has blonde hair and a set of green eyes.
Toffolo is very active on the various social media platforms such as Instagram and Twitter.
As of her daily life, Toffolo is quite figure conscious and even has her gym personal trainer based in London. She also attends a fitness class in Fulham.
When she is not in the gym or in her fitness classes, Toffolo sometimes heads out for a jog.
Apart from her physical workouts, Toffolo ensures that she maintains internal fitness as well. She maintains a healthy diet which consists of;
Smoked Salmon and poached eggs on white bread for Breakfast
Spaghetti Bolognese for Lunch
Tuna tartare for dinner, and
Chocolate fondue for Desserts.
Toffolo also can't keep her hands off from cheese & truffles – which according to her, are irresistible!
She also enjoys eating snacks such as Pret's Kale Crisps and Ryvita with Pesto.
Georgia Toffolo is also known among her fans as a gorgeous fashionista and sometimes explores fashion by shopping across different countries.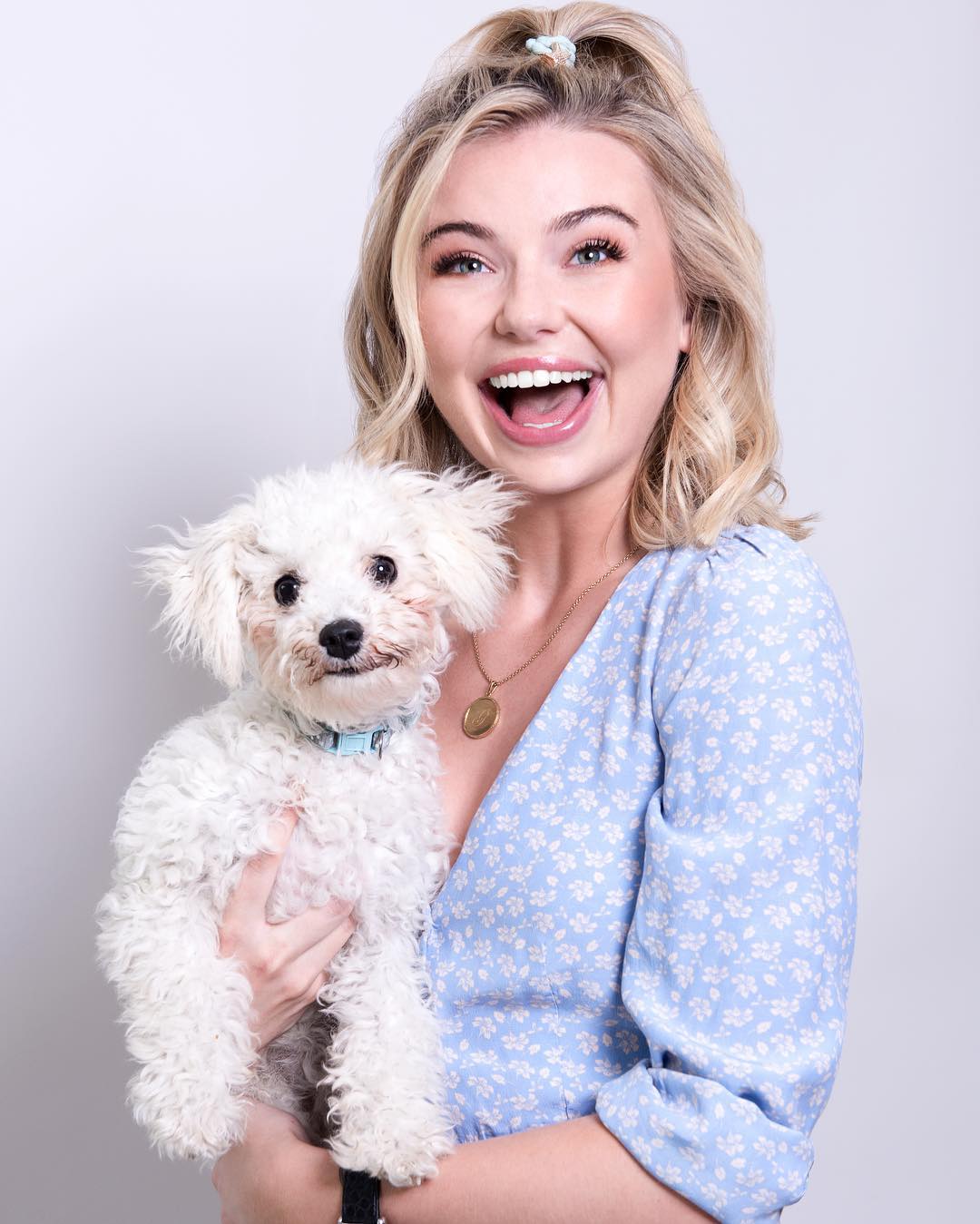 Georgia Toffolo's dating life – who is her current boyfriend?
Even at her young age, Georgia Toffolo has not been that lucky in love. She has been in a series of relationships in search for her perfect match.
Toffolo's first boyfriend was James Middleton while she was still a law student. When she started her TV career, she decided to end the relationship so that she could focus on her busy career.
In 2017, Toffolo confirmed that they were back together but reportedly ended the relationship before the year came to an end. The cause of their break up was never clear.
According to some sources, Toffolo had claimed that she wanted to focus on her stint in 'I am a Celebrity…Get Me Out of Here! While others claimed that it was James who had cheated on her.
In March 2016, Toffolo confirmed her relationship with George Lineker – who is a music entrepreneur and also happens to be the son of the English Soccer legend named Gary Lineker. The two only dated for a few months before parting ways.
In the same year, she was linked with Richard Dinan who like her, is also a TV personality. The relationship did not last because she was reportedly spotted late in 2016 with another mystery man.
In 2017, Georgia Toffolo linked up with Charles Goode who is a jeweler by profession. Although she did not confirm the relationship, she accepted that they were having fun and hanging out a lot.
The two had even been previously spotted returning from a lavish trip in Switzerland. Has Georgia Toffolo finally found her perfect match? Only time can tell.
Georgia Toffolo's Net Worth
Following her recent breakthrough in her career, Georgia is bound to start accumulating large amounts of wealth soon. According to some online sources, Toffolo is reported to have earned £13,000 from her stint in 'I'm A Celebrity… Get Me Out of Here!'
That combined with her recent successful roles in her previous shows is said to have left her with a hefty net worth of more than £800,000. The net worth is, however, still in review and yet to be made official.