Noah Reid is a Canadian-American actor famous for playing Patrick Brewer in Schitt's Creek. Reid joined the series in the middle of season 3 and quickly established himself as a fan favorite. Noah launched his acting career in the late 90s and early 2000s, playing voice roles in shows such as Pippi Longstocking and Franklin.
In 2010, Reid played the lead role in Score: A Hockey Musical, and five years later, he landed the role of Kevin in the sitcom Kevin from Work. Reid joined Schitt's Creek in 2017 and appeared in 39 episodes before the show ended in 2020.
This piece will look at Noah Reid's sexuality. Noah Reid is not gay.
Reid married his longtime partner Clare Stone in August 2020
Noah Reid announced his engagement to his partner Clare Stone on New Year's Eve 2019. "Roommates for life," Noah wrote alongside an Instagram photo of the pair.
Nearly two years after the engagement, the couple wed in an intimate ceremony held on the shores of Lake Huron. "A Wedding by Clare and Noah 25.07.2020," Reid captioned a photo of the pair kissing.
Clare Stone is quite private, but she does appear regularly on Noah's Instagram page. On 27th November 2020, Noah wished her a happy birthday, writing: "Happy Birthday to my wife and roommate Clare! Thank you for being who you are baby, I love you immeasurably."
Noah Reid had no qualms playing a gay character in Schitt's Creek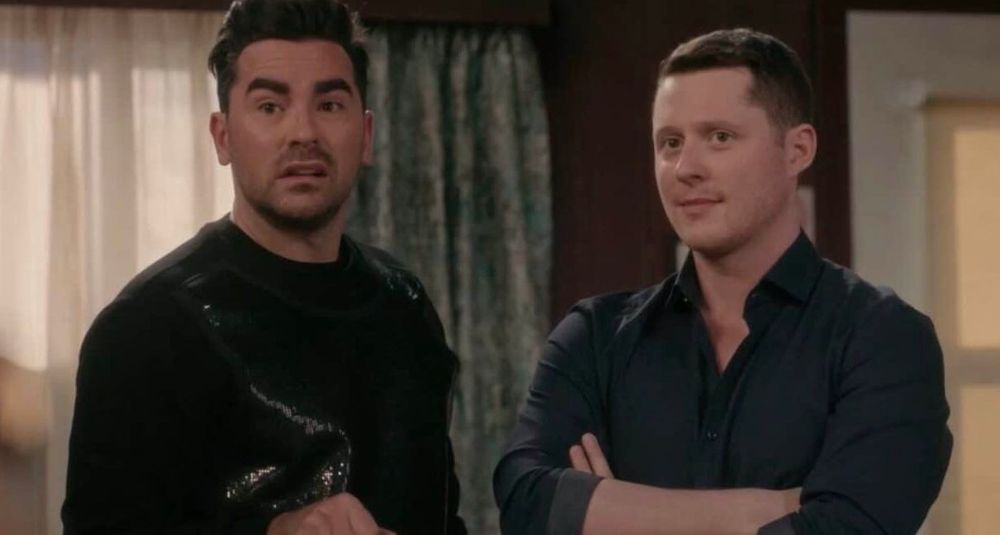 Schitt's Creek's directors decided to cast Noah Reid in the middle of a season because they felt that David Rose (played by Daniel Levy) needed a love interest. Daniel Levy admitted that it was a gamble that could've gone either way.
"Noah could have into the show and we could've gotten along, but there wouldn't have been the same spark," Levy told EW. "Then we would have probably inevitably either written him out or had it die off at some point." Noah stayed because he had undeniable chemistry with Daniel. The couple's first kiss was one of the most memorable of the series.
Reid had no qualms about playing a gay character because he views sexuality as a spectrum. "I didn't feel a need to play anything or put on anything aside from the feelings that character had for David Rose," Noah told Evoke. "I think we all know at this stage in the game that sexuality is a spectrum and gender is a spectrum."
Noah loved the show because it espoused the message that anyone can be who they want to be and love who they want to love. "This show, among many other things, stands for that and I'm really proud to have been a part of it," Noah said. When questioned about his proudest moment in the series, Noah enthused:
"On a personal level, I think the coming out scene was pretty massive it felt like for the how and for my character, and I'm proud of how the writers approached that storyline. And really I'm just proud to have been part of a show that seems to have captured so much of the world in it balance between humor and heart, and its ability to reach people and mean something to people in really dark times."
---