In Leave No Trace, Will and his teenage daughter, Tom, live a secretive life in Forest Park in Portland, Oregon. Will, an Iraq War veteran with PTSD, and Tom draw sustenance from forest survival skills and occasional trips to the town for supplies. The war veteran gets money by selling benzodiazepines to other veterans.
The pair's life changes after a jogger spots them and calls authorities. Police move Tom and Will and settle them in rural Oregon before the duo escapes to Washington State. They settle with an RV community as Will heals from his injuries.
Ultimately, Will returns to a life of isolation as Tom remains with her newfound community. "I know you would stay if you could," Tom tells her father as they part ways.
Leave No Trace is based on a true story of a father-daughter duo that once lived in Oregon's forests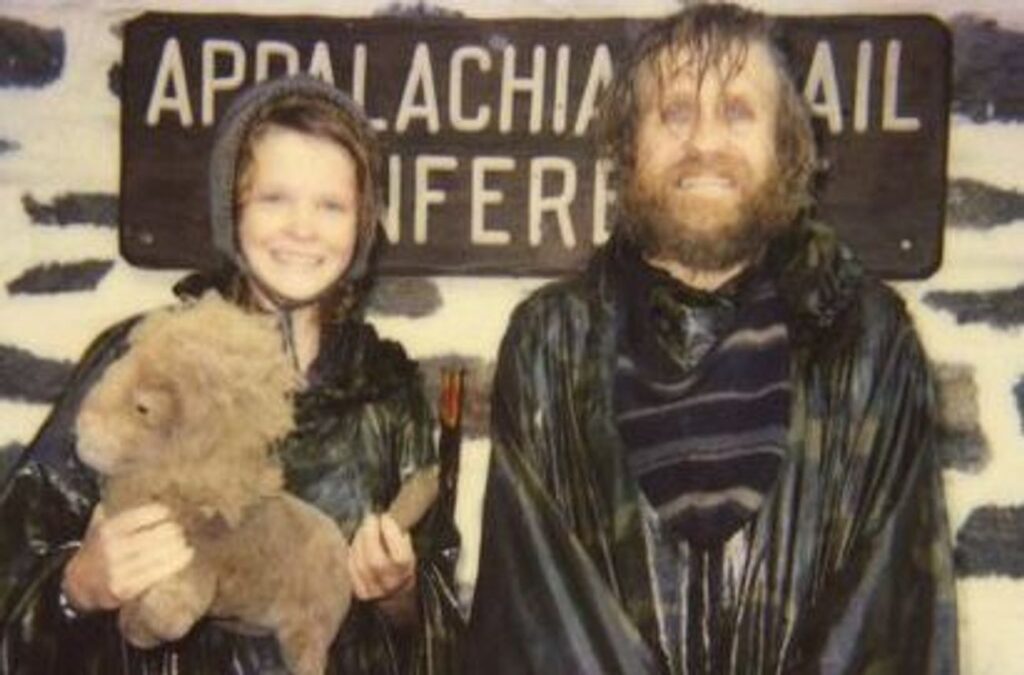 Director Debra Granik sourced Leave No Trace from Peter Rock's 2009 novel, My Abandonment. Rock based his book on the 2004 discovery of a veteran and his daughter living in Oregon's forests. 
As reported by the Portland Oregonian, in May 2004, police responded to a call from a cross-country runner stating he'd observed an old man and young girl in a remote area of an Oregon park.
"We had very little to go on," Sgt. Michal Barkley stated. "There's no way you could not do everything you could because it was a report of a child living up there."
Authorities found an elaborate shelter carved into a steep hillside containing a sleeping bag, firewood, tools, and World Book Encyclopedias. A swing, vegetable garden, and small creek surrounded the shelter.
Frank told police he was a Marine Corps veteran and college graduate who served in Vietnam. After moving from Tacoma to Oregon, he found no employment, opting to live in the forest rather than expose his daughter, Ruth, to the dangers of street life. Frank said Ruth's mother was institutionalized in New Hampshire.
Police found that Frank had no criminal history, and Ruth had no signs of physical or sexual abuse. Frank schooled Ruth using the encyclopedias, instilling in her knowledge beyond her years, police observed.
Debra Granik told Deadline she talked to a father-daughter pair living a similar life in Oregon. The father told Granik that he wanted her to learn from nature before she conformed to 'normal' life:
"I knew that at some point very soon, in her teen years, she'd have the rest of her life to conform. She'd have the entire rest of her life to be wired, have her device vibrating in her pocket, have emails that never go away, for the rest of her life."
There are several inconsistencies between the true story, book, and film
Peter Rock used Frank and Ruth's story as the starting point of his novel. Rock told the story through the years of the daughter, Caroline. The pair's journey after discovery takes a different route from reality and the film.
"The plot of the film differs from my book in some ways, but in terms of tone it's pretty close," Rock told Oregon Live. "My book has elements of fantasy, and Debra's movie grounds the characters more in realism."
As portrayed in the film, police found the pair a place to live on a farm in exchange for Frank's work on the farm. In the movie, the duo escaped to Washington State, where Tom found a community and Will returned to the forest.
In real life, Frank and Ruth returned to a life of isolation and were never found. The pair's story has caught national attention, worrying Will that the media would interfere with their simple lives. Will said media helicopters flew so close to the ground at the farm that he could read the inscriptions on their undersides.
The tight bond between father and daughter was a common thread between real life, the novel, and the film. "What was so clear was that their living conditions were unacceptable, but their relationship was a real deep love and caring for each other," Barkley said.
"To separate them would break their heart, their spirit. Their whole lives seemed to revolve around each other."
Granik told Oregon Live that Leave No Trace was a story about a unique bond between father and daughter. In her film press notes, Granik referenced Shakespeare's The Tempest:
"I'm drawn to the ways classic stories depict close relationships in which people complement and complete each other. Will and Tom look out for each other and also pollinate each other's minds."
---