The Depp-Heard trial has thrown up some startling and, at times, bizarre (the poop on Johnny's bed story) accusations. Before the case went on a week-long break, Amber Heard repeated a rumor claiming Johnny Depp pushed Kate Moss down a flight of stairs, delighting Depp and his legal team.
Ben Chew, Depp's attorney, seemed pleasantly surprised at Heard's mention of the stairs as he turned to his team and pumped his fist. Chew then whispered something to Depp, who grinned broadly while looking down at the plaintiff's table. 
This reaction has sparked inquiries about Kate Moss and the stairs' story.
Rumors claim Depp pushed Moss down the stairs during an argument
Amber brought up Kate Moss and the stairs when describing an alleged incident in which her sister stepped in to quell a disagreement between her and Depp. Heard said:
"[Whitney's] back was to the staircase, and Johnny swings at her. I don't hesitate, I don't wait — I just, in my head, instantly think of Kate Moss and stairs. And I swung at him. In all of my relationship to date with Johnny, I hadn't landed a blow. And I, for the first time, hit him — like, actually hit him. Square in the face."
Amber added that Depp didn't push her sister down the stairs. Heard also referenced the Kate Moss and stairs story during Depp's defamation trial in the United Kingdom. "I remembered information I had heard [that] he pushed a former girlfriend – I believe it was Kate Moss – down the stairs," Heard said. 
The rumor sprouted from an incident at New York's Mark Hotel in September 1994. Finding him 'in a state of possible intoxication,' police arrested Johnny for trashing his hotel room.
It's unclear why the reports of Depp pushing Kate Moss down the stairs surfaced, given authorities found her uninjured. Johnny paid the Mark Hotel $10,000 to cover damages and bills for the remainder of his reservation.
After the trial resumed, Kate Moss' friend Tillett Wright testified that Depp opened up to him about 'rage activities' in his past relationships. Wright said:
"He experienced great bouts of jealousy in relationships that had also led to a lot of drinking and a lot of rage activities. He told me that that happened with Winona. He told me that that happened with Kate. Sorry with Winona Ryder and Kate Moss."
Amber's accusation could lead to Kate Moss' appearance in court
Civil lawyer Roland Acevedo told FOX5 that Amber's mentioning of Moss could 'blow up in her face.' He said that the court wouldn't usually allow the involvement of a witness like Kate Moss, but the defense opened the door for Moss' appearance.
"Since the defense opened the door and said he did this, they now may be able to call her to prove it never happened," Acevedo said. "This could blow up in her face."
Mitra Ahouraian, an entertainment lawyer, concurred with Acevedo's observation. "That's one mistake that [Amber Heard] made was bringing up Kate Moss, which potentially opened the door to [Depp's team] bringing [Moss] on as an impeachment witness – and Moss saying, 'This never happened,'" Mitra told The New York Post.
Criminal defense attorney Halim Dhanidina told the outlet that Depp's team could petition the court to allow Kate to debunk the famous rumor that Johnny Depp pushed her down a flight of stairs.
Kate Moss and Johnny Depp are reportedly close friends, increasing the likelihood that he might ask her to support his case by testifying. It's unclear whether Depp's team will exploit the opportunity Amber handed them.
Depp blamed himself for his split from Kate Moss in 1997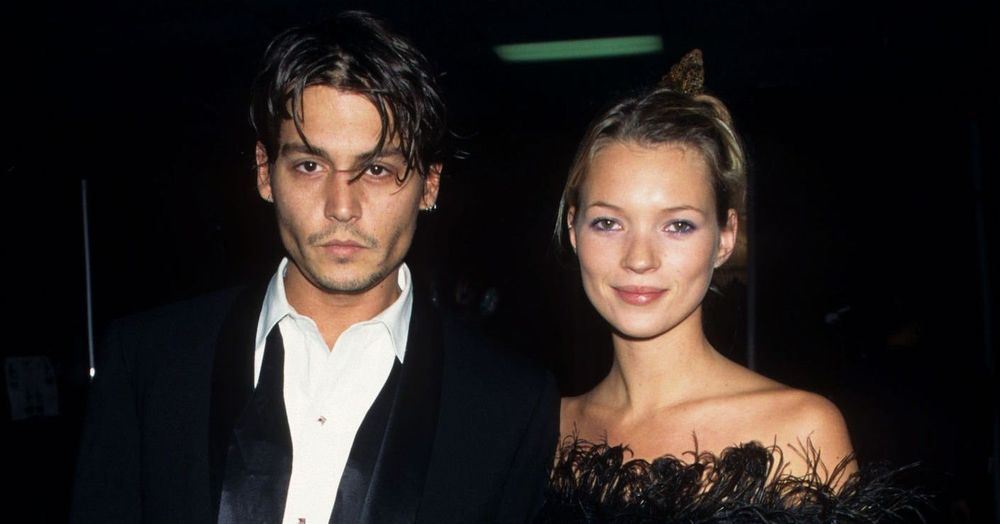 George Wayne, a celebrity journalist, reportedly introduced Kate Moss and Johnny Depp. The pair hit it off, becoming one of the famous couples of the 90s.
Moss and Depp seemed suited for each other. They had a similar fashion sense, and they enjoyed reckless partying – heavy drinking, chain-smoking, trashing hotel rooms, and all.
However, the couple clashed a lot, leading to regular reports about the pair's intense arguments. The couple broke up in 1997, much to Depp's disappointment. In 1998, he told Hello magazine that he felt responsible for the split:
"I have been so stupid because we had so much going for our relationship. I'm the one who has to take responsibility for what happened – I was difficult to get on with, I let my work get in the way and I didn't give her the attention I should have done."
Johnny said that he brought home baggage from work, angering Kate. "Sure, I should care about my movies but when I get home, I should try to leave that stuff behind," he added. "Trust me, I'm a total moron sometimes."
Kate waited nearly 15 years to address his relationship with Depp. She told Vanity Fair that Johnny took care of her, and she missed him a lot when the relationship ended. Moss said:
"I believed what he said. Like if I said, "What do I do?" he'd tell me. And that's what I missed when I left. I really lost that gauge of somebody I could trust. Nightmare. Years and years of crying. Oh, the tears!"
---