Seth MacFarlane is an American actor and comedian famous for creating and starring in the hit series Family Guy. MacFarlane has won five Primetime Emmy Awards and an Annie Award for his work on the show. Seth learned his trade at the Rhode Island School of Design before moving to Hollywood to work as an animator for shows such as Cow and Chicken and Dexter's Laboratory.
MacFarlane is also a singer with six studio albums and five Grammy Award nominations for his music. This piece will look at Seth MacFarlane's love life. We can confirm that he is not married.
Seth has been linked with stars such as Halston Sage and Simenona Martinez but he currently seems to be single
In 2004, Seth noted that he shares many similarities with the character Brian Griffin from Family Guy. He told The Daily Princetonian that his love life is similar to Brian's: "I have some Brian type issues from time to time – looking for the right person – but I date as much as the next guy."
Despite admitting that he dates a lot, Seth is quite secretive about the people he goes out with. The consequence of his secrecy is that there are always rumors concerning who he might be dating. Over the past few years, Seth has been linked with actresses Halston Sage and Simenona Martinez. However, Seth is yet to confirm any of the above links.
Without confirmation from Seth, we have to assume that he is single.
Seth and Emilia Clarke's relationship reportedly ended because the couple couldn't sustain a long-distance relationship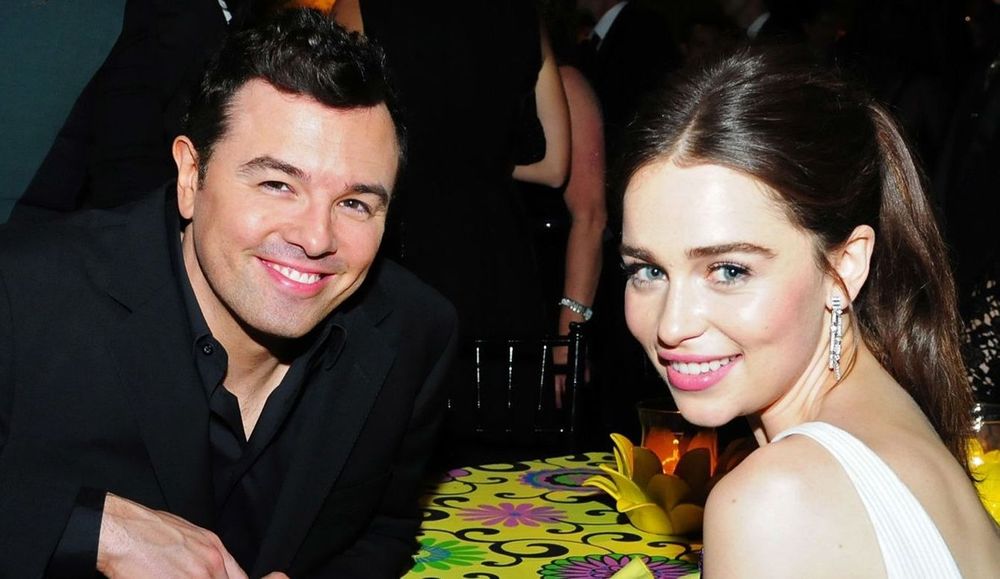 From 2012 and 2013, Seth's had a very public but brief relationship with Game of Throne's star Emilia Clarke. The public nature of the relationship bothered Emilia and Seth, given how secretive both of them are about their private lives. In 2016, Emilia told E! Online that she hated people's comments and suggestions about her relationship with Seth:
"Well, a con is you have strangers giving you love-life advice like, 'I'm a big fan of the show, and I'm not sure what you're doing with that guy,' which I didn't react well to. That happened in New York when Seth and I were together. This guy started to give me advice: 'Can I get a selfie? And by the way…' Unh-unh, bro."
The couple's relationship ended in 2013, and this time, the couple remained true to their secretive natures by refusing to reveal the reason for their breakup. However, an anonymous source speaking to E! Online stated that distance might have contributed to the end of the relationship:
"She has been in Europe shooting Game of Thrones and he is based in California, so it was hard to make it work despite the distance. They have remained friends."
---