John Boyega portrays Brian Brown-Easley in the upcoming film Breaking, whose recently-released trailer showed snippets of what promises to be a heartbreaking film. The film is based on the true story of Brian Brown-Easley, a former US Marine who was forced to extreme measures by the failures of a system meant to protect veterans.
"For this to surface in this way, to tell this story that connects to mental health struggles that our veterans have also," Boyega told Complex. "And then the complications of just dealing with issues, financial issues, it's very special to be able to touch on those several points."
Brian was a soft-spoken character who loved Tolkien novels
Brian Easley was born in 1983 into a family of eight siblings and two parents, Barbara Easley and Bobby Lee Brown. The youngest of his siblings, Brian grew up in Williamstown, New Jersey, sheltered by his mother's love.
Easley was largely introverted, having few friends and preferring to stay indoors and play video games with his brothers. Brian told his fellow Marines he was a virgin when he signed up, aged 18.
Twelve weeks of military training transformed Brian into a sharp and robust man. "I sat there in awe the whole time," Calvin, Easley's oldest sibling, told Task & Purpose. "He went in a little boy, and they turned him into a man."
Easley's physique changed, but he was still the same soft-spoken boy from Williamstown. He preferred to read rather than weigh in on debates, often interjecting out of nowhere with silly assertions before burying his nose back into whichever Tolkien novel he was reading.
John Boyega told Complex that the production team worked closely with Brian's family to get an accurate picture of the former Marine. Brian's wife told Boyega that Brian never lost his soft-spoken nature, even after his military service left him with mental health issues. Boyega said:
"Brian's ex-wife mentioned his voice, the softness of his voice. His voice would always be quite low and quiet. Sometimes even hard to hear, it was quite soft-natured and would look down a lot of the time through his glasses and would peer up, crack a joke."
Easley left the marines with mental health issues and back pain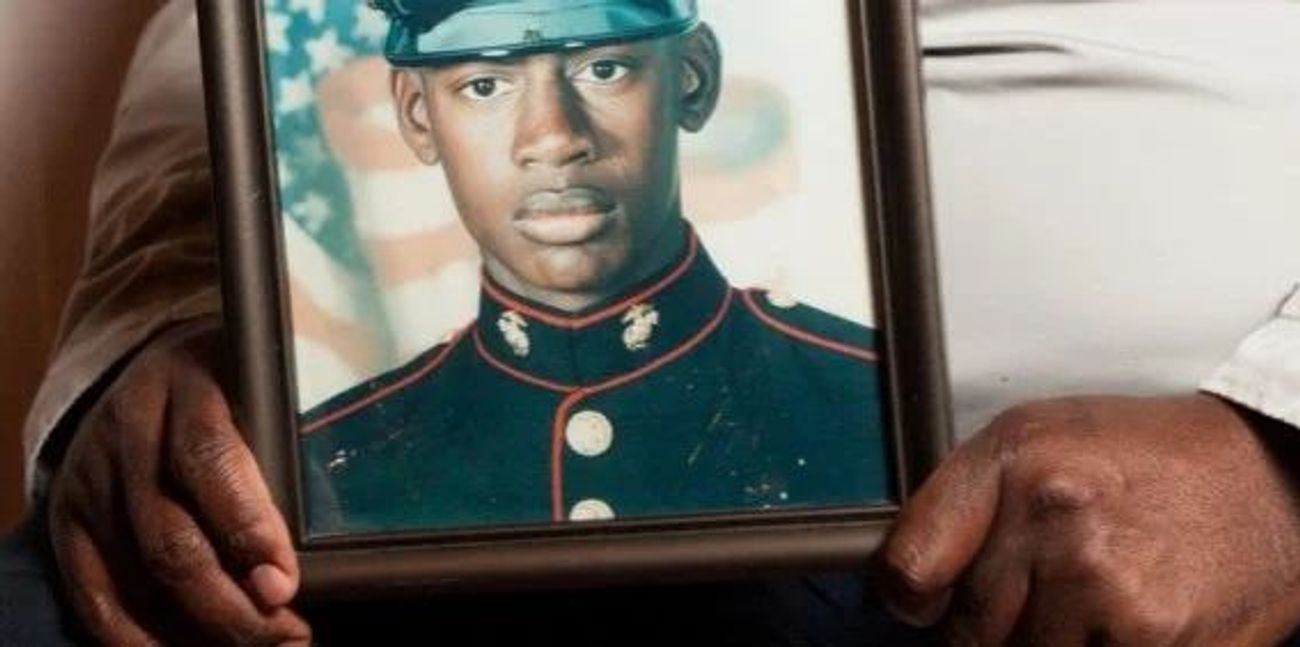 Brian Easley served as a warehouse clerk in Iraq with the 2nd Supply Battalion. His job involved filling requisition orders for units in an area where al-Qaeda forces had mounted a surprisingly fierce counter-offensive against the Marines.
Easley's station lay far away from the frontlines, but he worked long hours, clocking 17 hours a day for months. The job contributed to the back pain that would plague him later in life.
"The warehouse jobs are out in the rear, so I wasn't on the front lines," Easley said. "I had one close call during a security detail, but that's about it."
However, true to his nature, Brian was being modest. The area he worked faced frequent mortar fire, forcing everyone to scramble into the bunkers. James Dunlap, Easley's colleague, said:
"I'm thinking, 'We're in supply, we're not going to see this type of action,'" he recalled. "But when they say 'Every Marine is a rifleman,' they mean it."
The marines discharged Brian honorably in 2005. He returned to his mother's home in Jefferson and met his wife, Jessica Tate.
Easley's family said they noticed a difference in his character straight away. Doctors diagnosed him with PTSD, paranoia, and schizophrenia, which prevented him from reenlisting.
"After we got out, it got rough for everybody on the tour," said James Dunlap. "It's easier to be in a war zone than live life out here. You're not in the Marine Corps anymore, so what's your purpose?"
In 2008, Brian's parents fell ill, and Jessica became pregnant. Easley visited Tate for the birth of their daughter, Jayla, promising to return to his wife and child when his parents got better. However, Brian didn't return; he fled home and checked into a VA (Veterans Administration) mental hospital.
After his discharge, Brian moved in with his brother in New Jersey and kept away from Tate and Jayla, saying that mysterious people were after him and he didn't want to place his family in danger.
Brian was pushed to bank robbery by non-payment of his VA check
Easley disappeared for three years, reappearing in 2014 in Georgia. He moved in with Calvin, kept his VA appointments, took his drugs, and showed an intention to get his life on track.
He left Calvin and his wife after one-and-a-half years, spending time on the road before returning to Marietta in 2017. He enrolled in computer classes at a for-profit college dubbed Lincoln College of Technology.
Brian maintained regular contact with Jayla through a phone he'd bought her. He also sent some money from his VA check to Jayla, increasing the amount whenever Jayla requested.
Easley desired to surprise Jayla with a dog, but before he could purchase a pet for his daughter, Brian realized that he was headed for homelessness – the VA hadn't deposited his check for July.
Brian had an idea why his bank account was empty despite him expecting $892 from the government. He suspected the VA had recouped the money after he stopped attending computer classes.
Easley was an unwitting victim of a law that allows the VA to recover money directly from a veteran who stops attending classes or drops too many courses. The government will cover tuition fees, but failure to attend class empowers the VA to recoup money from the veteran.
According to the VA, Brian owed $1,163. After taking his July $892 payment, his balance was $271. Easley understood his predicament and promised to return with a payment plan; he never showed up.
Instead, he showed up at a Wells Fargo bank branch and informed one of the tellers that he had a bomb in his backpack. Brian allowed all employees except two to leave and called 911, apprising them of the situation. He then called local news outlet WSB and said:
"They took everything. With my last bit of money I got I've been able to hold up at a hotel, but I'm going to be out on the street and I'm going to have nothing. I'm not going to have any money for food or anything. I'm going to be homeless, and I'm going to starve."
Easley's shooting was legal but unnecessary in the eyes of many
Easley didn't intend to harm anyone or take beyond what he believed he deserved. Brian told the two ladies he held hostage he would let them go before detonating the back. Employees had left cash on their workstations, but Brian didn't want it; he only wanted his $892 disability payment from the VA.
Sgt. Andre Bates, the lead negotiator, created a rapport with Brian through their shared military history. The pair talked about the injuries they struggled with and the incompetence of the VA. "That's my responsibility – to make sure you stay alive," Bates assured Brian.
Bates then asked Brian to release one of the hostages. Easley readily agreed and asked for a pack of cigarettes in return. However, the hostage's release took longer than expected as the three inside the bank debated on which hostage should go.
Ultimately, Brian decided to let the teller go. "I'll let you go, and I'll keep the branch manager here so they won't blow my head off," Brian said. Meanwhile, Officer Dennis Ponte radioed the assistant SWAT commander, saying he had a clean shot at Brian.
Benjamin Cohen, the assistant SWAT commander, told Ponte not to shoot. Ponte later heard that Brian was releasing a victim but reported 'there was no effort or energy being put forth toward releasing somebody.' He then fired the fatal shot that killed Brian Easley.
Everyone was caught off-guard by Ponte's action. The police department's policy manual stated that tactical solutions were a last resort after communication with the subject failed to resolve the incident. Furthermore, the manual placed the onus to initiate a tactical solution on the on-scene commander.
Ponte unilaterally decided to fire his weapon; a grand jury decided his actions were legal. In the eyes of many, however, the shooting was unnecessary as negotiations had shown promise. Bates told Task & Purpose that nobody would have died had Ponte followed procedure:
"I'm out there to do a job. I'm pretty good at what I do, and the things I'm telling him are coming from the heart, one human being to the next. My job is to protect everyone so we can all walk out of there and play out whatever happened in court. That is the win for me."
"Easley was very calm, he indicated he wasn't looking to hurt anybody, and he demonstrated a willingness to cooperate," Jack Cambria, a former commander of NYPD's crisis negotiation squad, said. "Tactical assault is reserved for the last option, when it becomes absolutely necessary."
---