John Harold Merrill is an American politician serving as secretary of state of Alabama. He was a House Representative in Alabama from 2010 to 2014 before running the secretary of state. The Republican won reelection in November 2018, with his term set to end in January 2023.
Merrill attended the University of Alabama, where he served as president of the Student Government Association for the 1986-87 school year. After graduation, he completed two congressional internships and went on to hold roles in community relations and business development.
This piece will look at John Merrill's wife and the impact of Merrill's extra-marital scandal.
John Merrill and his wife Cindy Benford share two children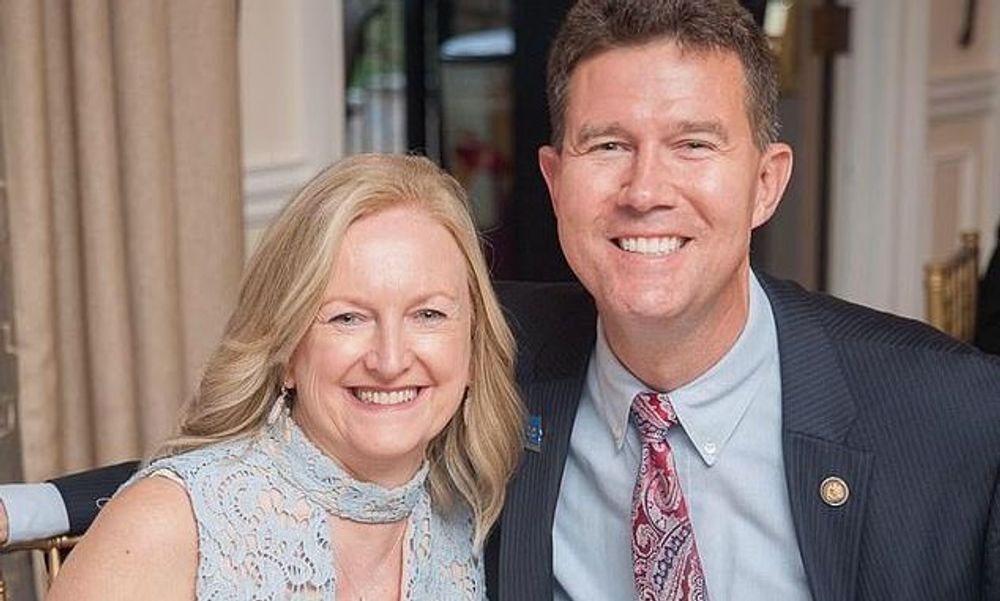 John Merrill and Cindy Benford married on 11th May 1985 at Calvary Baptist Church in Tuscaloosa, Alabama. The couple has two children, Brooks and Grace.
Cindy is an educator and the former principal at Westwood Elementary School in Coker, Alabama.
Merrill is quite secretive about his personal life. Despite having an active Instagram account, John rarely shares photos of his family.
Merrill initially denied having an extramarital affair, but he acknowledged it following the release of an explicit phone call he made with his former lover
After rumors began to circulate, alleging that John Merrill had an extramarital affair, the politician moved swiftly to deny the claim. He told a local radio station that the rumors were perpetuated by political rivals or people looking to hurt his family. Merrill vehemently denied the affair and accused that the woman in question, Cesaire McPherson, of 'stalking' and 'harassing' him. He said:
"Beginning in 2019, this woman began texting and communicating with me through social media. While we exchanged texts and she even visited the office, it was clear she had other intentions that were bordering on obsession. I alerted my wife, Cindy, to this and we both agreed to cut off any and all communication with her."
John Merrill's tune changed after McPherson handed AL.com a 17-minute phone call between her and John detailing 'sexual acts performed during dozens of romantic encounters.' During the call, John stated that he'd tried in vain to stay away from McPherson. "I am not able to stay away from you, so that's the reason why I have to help in order to do that… the help is coming from the Lord," said John.
"You already went against your marriage," McPherson rebuffed. Per Alabama Local News, the affair ran from November 2017 to November 2020. After the publication published the phone call, John admitted to having the affair:
"It's clear that I had an inappropriate relationship with her, and it is not something I am proud of. I'm very disappointed in myself. I'm also disappointed that I allowed my family to be embarrassed by this action."
John was accused of having a sexual encounter with a friend's wife in September 2010
It isn't the first time that John has been involved in an extramarital scandal. In February 2015, John's name came up during a deposition of a divorce case involving Merrill's friend. The friend's wife testified that she'd had a sexual encounter with the politician in September 2010. The woman stated that Merrill objected to intercourse, but she performed oral sex on him. Speaking to Alabama Local News, Merrill denied part of the allegations:
"She kissed me, I kissed her back. Then she started unbuttoning my shirt, and after that, she started to become more aggressive, and she actually did some other things in trying to engage me in some physical activity with her, which I declined, and I indicated to her that I was not going to do that."
John Merrill announced that he won't run for public office after his term as secretary of state ends
It's no secret that John Merrill harbored ambitions for higher office after the expiration of his term as secretary of state. Term limits precluded him from running for another stint as Secretary, but he was touted to replace retiring Senator Richard Shelby. A shot for the gubernatorial seat was also in the cards. However, he told Alabama Local News that he will not vie for an elected position in 2022:
"I will obviously not be a candidate for the United States Senate nor will I be seeking any other elected position in 2022, because I think it's important to me to make sure that I become the man that I have been before and that I am working to put myself in the position to be the leader that I have been before, as a husband, as a father, as a friend and as an elected official."
It is ironic that a politician who condemned 'moral' decay in the country has had his political career halted due to his immorality. At the time of his affair with McPherson, John told Alabama Local News that the 'foundational principles which we have grown up as a nation are no more.' He also lamented about the absence of 'morally uplifting' shows:
"There's no more TV shows like Gunsmoke or Bonanza or The Virginian' or 'I Love Lucy' or 'Andy Griffith.' I said people are too interested in homosexual activities. They're too interested in wife swap TV shows and the shows that are not morally uplifting. That's the problem."
"I don't want to say anything other than here's proof that John Merrill is a liar," Cesaire McPherson said in a brief statement to Alabama Local News. "Here's the true John Merrill."
---