Aaron Paul is an American actor best known for playing Jesse Pinkman in Breaking Bad. The role won him, among other awards, three Primetime Emmy Awards for Outstanding Supporting Actor in a Drama Series. He is only one of two actors to have won the award three times.
Paul reprised the role in the 2019 Netflix film El Camino: A Breaking Bad Movie. Aaron's early professional career involved minor and guest roles in movies and shows. Breaking Bad made him a Hollywood hotshot, offering him leading roles in Need for Speed, Eye in the Sky, and Central Intelligence.
Aaron and his wife, Lauren Parsekian, almost married on their first date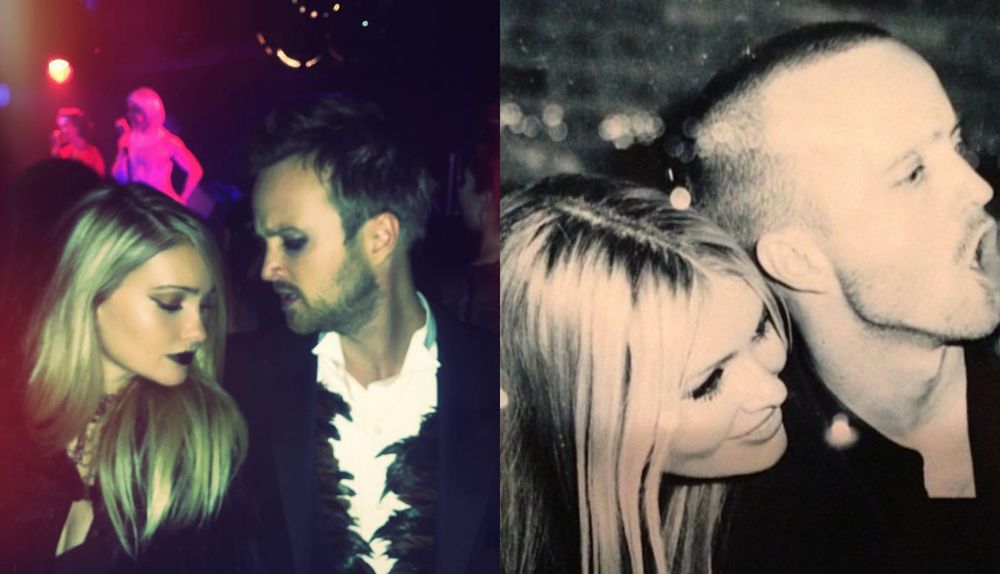 Aaron and his wife Lauren met at Coachella in 2010, but it wasn't until a year later, at the same event, that the sparks flew. "And then a year later, we fell in love at Coachella," Aaron said. "You know first kiss on the Ferris wheel sort of thing."
Lauren and Aaron had such a strong connection on their first date in Las Vegas that they decided to get married. They hailed a cab and asked to be taken to the nearest chapel. Aaron told GQ:
"You know when people say, 'When you know, you know'? Even leading up to the kiss on the Ferris wheel, I couldn't imagine myself being without her. I was like, 'Wait, can this actually exist?'"
The chances are that the wedding would have happened had they found the Little White Chapel open. Lauren and Aaron didn't say 'I do' at the time, but it wouldn't be long before Aaron proposed.
Paul proposed in Paris in 2011, and the couple got married in May 2013 in Malibu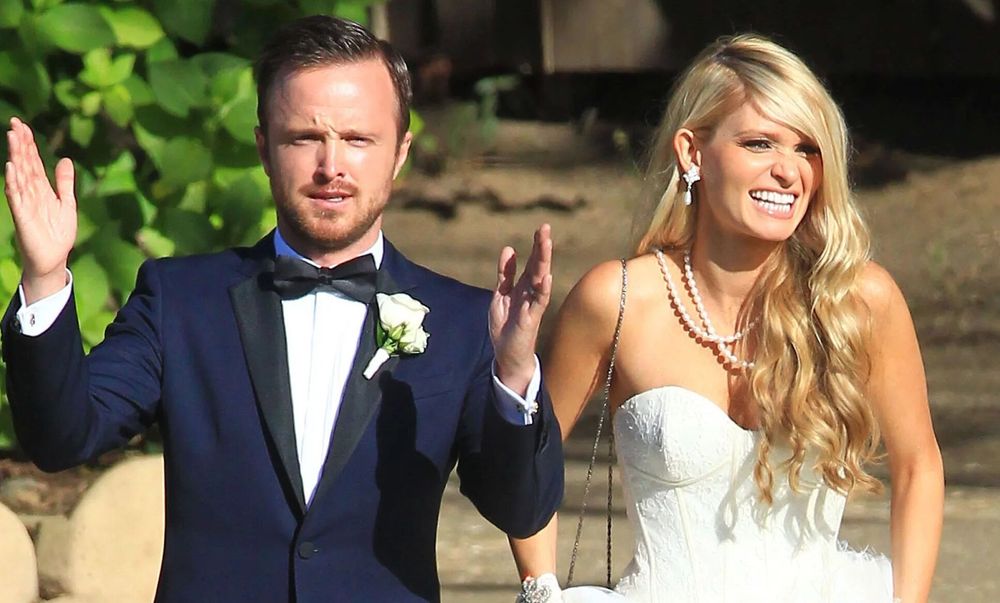 Paul chose the City of Love for his New Year's Eve proposal in 2011. "She's the greatest woman that has ever existed," Aaron told GQ in 2012. "No offence to other women on this planet, but she is hands down the best."
About a year and a half later, the couple wed in 2013 at the Cottage Pavilion in Malibu, California. Paul's breaking bad co-star, Bryan Cranston, lined up as a groomsman.
"It was beautiful and so emotional," Parsekian told People. She added that her first sight of Aaron at the wedding would forever remain in her mind. The couple chose a Parisian-themed reception in honor of the city that hosted their engagement.
La Vie en Rose played as the couple had their first dance. Paul played the same song during his proposal to Lauren.
Paul had an extra surprise in store for his bride. He'd emailed the guests to learn the words to Beauty by the Shivers so they could sing it to Lauren at the reception. Lauren told People:
"Aaron had coordinated with all the guests by having them join in and sing to me at the end of the song. He had emailed everyone before the wedding so people could learn it. It was probably the most emotional, overwhelmingly beautiful moment of my life."
"Everything was perfect," Paul summarized the ceremony. "It was pretty magical." Eight years on, the couple is still going strong. Lauren dedicated the following message to her husband on their eighth anniversary:
"8 years married today, 10 years together and I truly love you more this second than I ever have. You're just everything good. There have been beautiful, hard, thrilling, sad, mundane, peaceful, new chapters and everything in between and there's no one I'd rather live it ALL with."
The couple has one daughter, Story Annabelle, and is open to having more children
"Hey everyone. Look what I did," Paul wrote alongside a photo of Lauren's growing baby bump. "There are no words that will ever be able to explain what just happened to my heart," Lauren wrote when the couple welcomed Story Annabelle in February 2018.
In 2018, Story hit the headlines when she attended San Diego Comic-Con wearing a baby-sized Breaking Bad costume. Paul proudly carried Annabelle as the cameras ate up the adorable little girl.
"I actually got that outfit the last time I was at Comic-Con five years previous to this," Paul said on Live with Kelly and Ryan. "And I was like, 'You know what, I'm going to keep this and put it on my baby one day!"
Annabelle has already attended Comic-Con, but it will be a few more years before Aaron introduces her to Jesse Pinkman. "Maybe when she is 12-13," Paul told Entertainment Tonight. "I don't know!"
Aaron has enjoyed everything about fatherhood. He told Us Weekly that he couldn't get enough of Story singing to him as he changed her diapers. "You never think you could love them anymore but then all of a sudden your heart explodes in a way that you never imagined possible and then you do and it just keeps growing."
Paul intends to bring more children into the world. He told Entertainment Tonight that he'd discuss more children with his wife, but he has no objection to having more kids. He said:
"I mean, I'm down to just keep going. My life began once I had a baby girl, my god. And watching my wife sort of take on a role of a mother, it's just such a joy."
Lauren's experience with bullying motivated her to start the Kind Campaign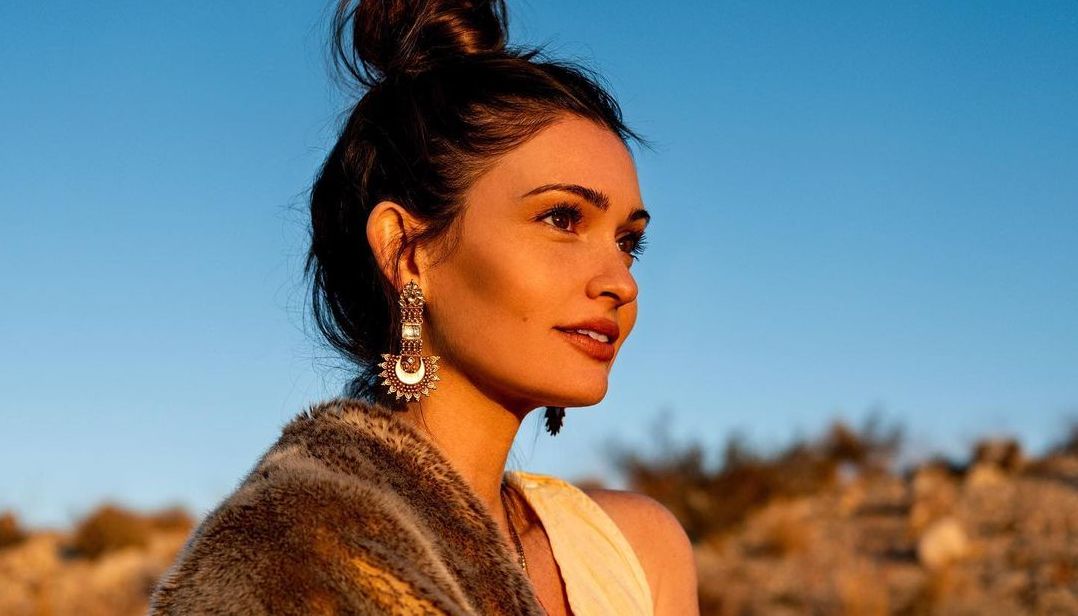 Lauren Parsekian was born on 8th December 1986 to Debry Kelly and Thomas Parsekian. She grew up in Orange County, California, alongside two siblings – Brooke and Liam.
Debry and Thomas were actors in the 70s and 80s. Debry appeared in Prizzi's Honor, Hot Resort, and Chips. Thomas worked with Debry in Hot Resort and also appeared in Club Life and Fame. Thanks to her parent's influence, Lauren joined Pepperdine University to study Film Making.
Before she joined Pepperdine, however, Lauren had a turbulent time in high school. She suffered depression and struggled with an eating disorder due to the bullying she experienced from other girls.
"My ordeal started because a boy liked me and this girl liked him," Lauren said (Per Her ). "Through seventh and eighth grade, I was tortured every single day by a group of girls." Consequently, Parsekian's self-confidence dipped, and her grades suffered.
Lauren's experiences remained in her mind throughout college. After graduation, she and other Pepperdine University graduates formed the Kind Campaign – a movement committed to ending girl-on-girl abuse.
Parsekian's 2011 documentary Finding Kind sensitizes people about girl-on-girl bullying and its effects on a person. Lauren went through hell in high school, but the silver lining is that through her experiences, people have learned more about the impact of bullying. She said:
"My bullying experience affected the course of my life. I was a floater in high school. I was friends with everybody but didn't get too close to anyone. I am thankful for going through that experience, walking those hallways in middle school. If not for that, Kind wouldn't exist. There's so much good we can do, so it all happened for a reason."
Paul has supported the Kind Campaign on numerous occasions. He helped raise over $1.8 million via a charity that coincided with Breaking Bad's series finale. "Without us asking him to do anything, he took it upon himself," Lauren told People. "It was humbling."
"If you guys don't know what she does, look up Kind Campaign," Aaron said as he accepted an Emmy. Aaron's plug directed so much traffic to the Kind Campaign website that it crashed.
---