Ryan Dunn was a member of the famous Jackasses who popularized the prank and stunt genres in the early 2000s. Dunn met his close friend and fellow jackass Bam Margera in West Chester, Pennsylvania. The pair became fast friends, turning West Chester into their skating playground.
Margera was a skilled skateboarder; Ryan, not so much. However, he enjoyed practicing and drew humor from his numerous failed attempts. Ryan and Ban recorded these fails, creating videos that later became the basis for Jackass TV.
Ryan starred in the show and subsequent films. Unfortunately, Ryan Dunn's tragic death in June 2011 ended his decade-long stint as an adored jackass.
Ryan Dunn was drunk and driving over the speed limit when he fatally crashed his Porsche
Ryan Dunn passed away in a grizzly car crash in the early hours of 20th June 2011. Dunn's Porsche skipped over a guard rail, flew into a ravine, struck a tree, and caught fire.
The massive force of the impact shattered the vehicle into pieces. A skid mark near the scene, presumably from Ryan's car, spanned 100 feet. Dunn was so severely burned that coroners used tattoos and hair to identify him.
"I've never seen a car destroyed in an automobile accident the way this car was, even before it caught on fire," Goshen Police Chief, Michael Carroll, told Radar Online. "The automobile actually came apart. It was unbelievable and I've been on a lot of fatal accident scenes. This was by far the worst I've ever seen."
The Chester County coroner stated that Dunn and his passenger, Zachary Hartwell, passed away due to blunt force trauma and thermal trauma.
Hours before the crash, Ryan had tweeted a photo of himself, Zachary, and another man drinking. Jim O'Brien, the manager at a bar called Barnaby's, confirmed that Ryan drank at the bar but didn't appear drunk.
Dunn's blood-alcohol level was .196, more than twice the limit in Pennsylvania. Authorities suggested that Ryan's Porsche 911 GT3 had been traveling at over 130 miles per hour. The police report said 'speed may have been a contributing factor in the crash.'
Ryan was notorious for accumulating traffic violations, a large chunk of which involved speeding. He'd once rolled a car eight times with Bam Margera as the passenger.
Dunn's death hurt his friend Bam Margera deeply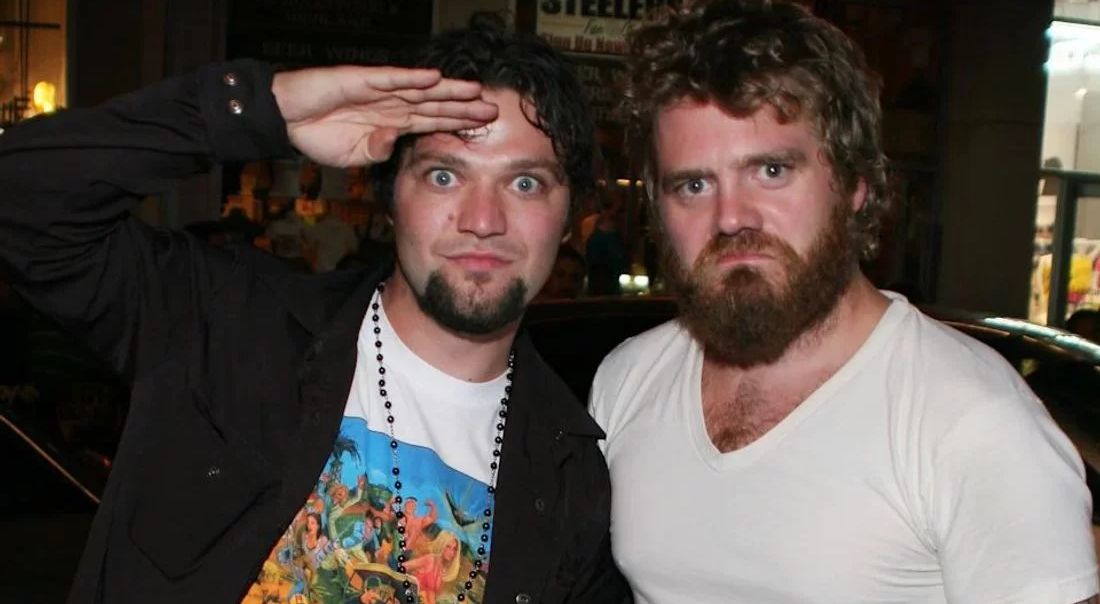 Bam Margera couldn't believe that his closest friend was gone. They'd filmed countless pranks and stunts and achieved fame together. 
"I've never lost anybody that I cared about," Bam said. "It's my best friend. He was the happiest person ever, the smartest guy. He had so much talent, and he had so many things going for him. This is not right, not right."
April Margera, Bam's mom, was equally devastated. She said Dunn wasn't a drinker, and she wasn't ready to accept he'd passed that way. "I am sick because it is a waste, sick because I loved him, sick because he was talented, and sick because he is gone," April said.
Some believe that Dunn's devastating death contributed to Bam's subsequent spiral into unrestricted drug use.
Dunn successfully battled a blood clot, Lyme disease, and depression
Ryan's health struggles began during filming for Jackass Number Two. In the final scene, a horse pulls Ryan and Bam off their feet and out of view.
Unfortunately, Ryan's fall caused a potentially fatal blood clot. "A blood clot is really dangerous because if a chunk of that went into his heart or his brain, he would die," director Jeff Tremaine told MTV.
Dunn's friend told the outlet that he'd never seen Ryan so scared. Ryan received treatment for the clot, but doctors discovered another condition during his assessment: Lyme disease.
He also received medication for Lyme disease, but the consecutive health complications weighed on Ryan. Dunn suffered from depression, forcing him to cut contact with most of his friends and the Jackass crew for two years.
Dunn reunited with his jackass friends in time for Jackass 3D. Unfortunately, the reunion didn't last long as the 34-year-old passed in the accident mentioned above. 
Read Next: Alan Rickman's death — He kept his illness secret
---