Statistics
Age:

33 years old

Date of Birth:

April 6, 1986

Birth Place:

Chicago, Illinois

Horoscope:

Aries

Full Name:

Kay Adams

Occupation:

Sportscaster, TV personality

Height:

5 feet 5 inches

Nationality:

American

Ethnicity:

Polish
About Kay Adams
Kay Adams is an American sportscaster and television personality best known for her role as the host of the Good Morning Football show at NFL Network.
She focuses mainly on fantasy football, and as a result, has become a popular personality because of her outstanding professional skills on the field.
Kay Adams has managed to keep most of her life off the radar, but we have compiled you a list of some interesting facts you need to know about her.
Kay Adams' Early life
Kay Adams was born in Chicago, Illinois in the United States. She belongs to the American Nationality and possesses the polish ancestry. Adams is a fluent speaker of both Polish and English languages.
There is no available information about her parents. However, it is clear that she was raised alongside two siblings.
She has a sister named, Sylvia Wrobel and an elder brother, Adamski.
There is no available information about her education history or academic achievements either.
According to a tweet she made in 2014, Kay had been invited to a 10-year reunion in her former High School. She, however, ended up not attending the reunion.
She was careful not to reveal any information about her former High School in her tweet.
Kay Adams' Career
Kay Adams co-hosts the NFL Network show, Good Morning Football alongside Peter Schrager, Kyle Brandt and Nate Burleson. The show broadcasts live starting 7 a.m. to 10 a.m. ET from the CBS Broadcast Center.
In the show, Adams with the other three hosts discuss the daily football topics and regularly invite various NFL coaches and players.
The show is quite a success which explains Kay Adams popularity.
She also hosts DirecTV's fantasy zone and sometimes makes guest appearances to discuss her fantasy football picks on shows and podcasts such as Complex News, Sports Net New York, and the Garbage Time Podcast with Katie Nolan.
Adams main focus is on fantasy football. She first began making YouTube videos related to fantasy football in 2012. In the present day, Kay Adams is regarded a professional in the field and is often approached to give her say on the topic.
Prior to her present debut career at NFL Network, Kay Co-hosted NBC Sports Network's Fantasy football live.
Kay Adams started her career as an in-game-host for the St. Louis Cardinals. Her first job related to professional football was on football shows such as SiriusXM's living' the Fantasy and SiriusXM Fantasy Drive.
It was then preceded by her role as an anchor at DirecTV's Fantasy Zone.
Kay Adams' Personal life – is she married or dating anyone?
Kay Adams is no doubt attractive, and as a result, many men are drawn to her. Her fans are, therefore, always inquiring about her love and dating life. Adams has, however, managed to remain secretive about the topic.
She hinted about a 'boyfriend' in a tweet she made in March 2011. When interviewed by Craig Ferguson in the following year, Adams said that she was single. She went on to explain that her in-depth knowledge in football makes most men intimated or insecure about her presence.
In the 2015 ESPY Awards, Kay Adams was spotted with New England Patriots wide receiver, Danny Amendola. Rumors soon spread that the two were dating.
The rumors were supported by many online sources which confirmed the sighting of the two together.
Some reliable online sources even confirmed that the two had been a pair for quite some time.
However, when asked about their relationship, they both dismissed the rumors as false. More rumors followed saying that the two parted ways afterwards. This rumors cannot be confirmed since they both denied being together in the first place.
We, however, do hope that she will soon go public about her dating and love life. Who knows, she may even surprise us with news about an engagement or wedding!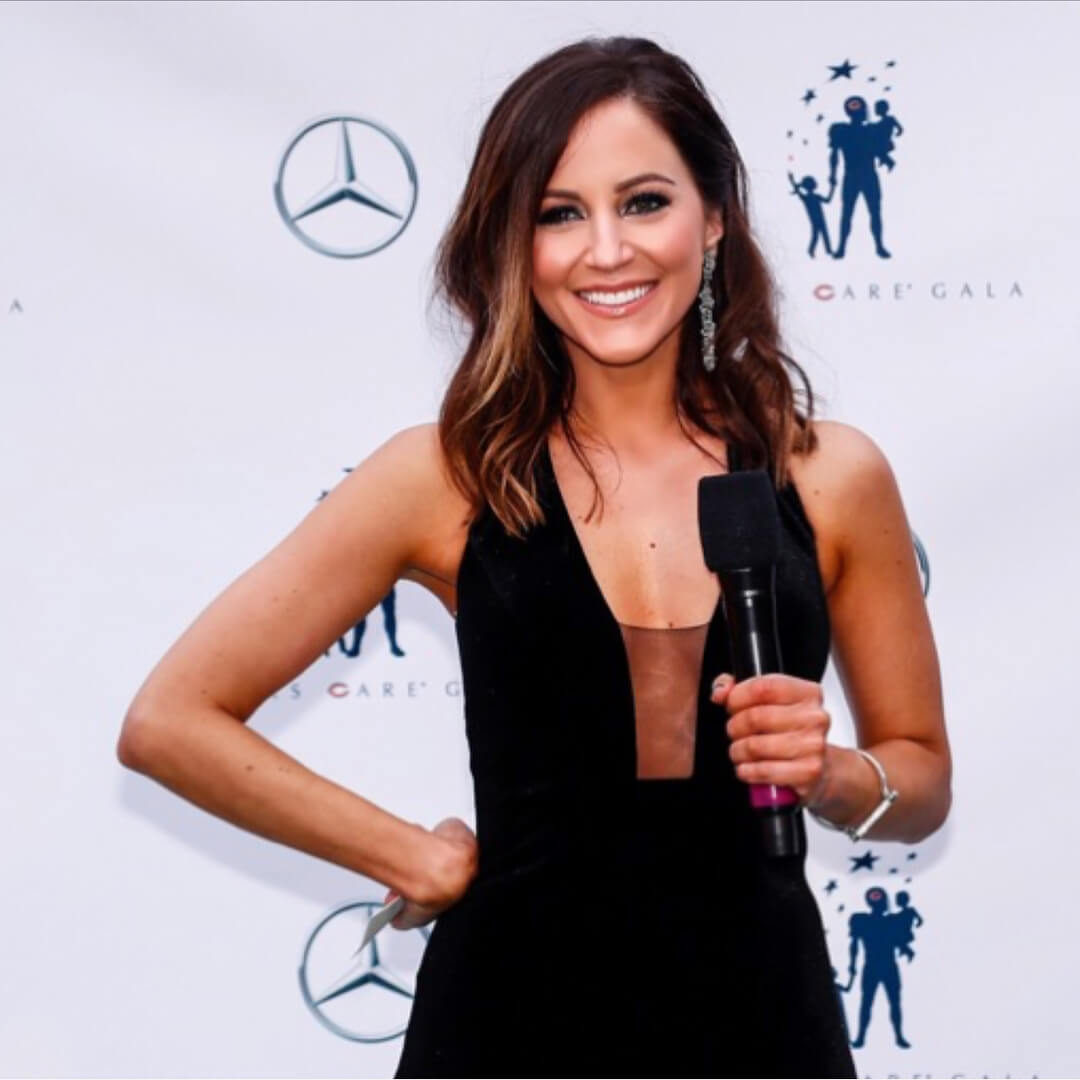 She is very selective of the foods she eats
In 2016, Kay Adams was interviewed by Katie Nolan on the Garbage Time Podcast. She told Katie of her picky and selective feeding habits.
She likes eating ketchup but doesn't eat Bacon. Adams compared Bacon to fat and skin. She went on to explain that she doesn't eat bacon because of its bad smell.
She doesn't eat deli meats with bones either.
Katie asked her to choose between Blue Cheese and Ranch dressing for chicken wings. Adams confessed she had never eaten chicken wings before!
However, despite her picky nature, she revealed that she enjoys eating Pizza, Chicken, and Hamburgers.
Height, weight, and Body measurements
Kay Adams has a slim, curved body shape with a height of 5ft' 5 inches, and an average weight of 53 kg. Her hair is light brown, but she is sometimes seen tweaking it to blond.
Adams also has an attractive set of green eyes.
Kay Adams' Net Worth
Adams has been an active figure in sports journalism since the year 2010.
She no doubt earns an impressive salary from her NFL Network job, but she prefers to keep it her secret.
The average radio and TV presenter earns an average of $32,450 annually, but we do know that she is way past the term 'average.' We expect her to be earning a higher annual income.
In addition, the Influencer Marketing Hub approximated her to be earning between $386 – $643 per post on her Instagram profile. Kay Adams has endorsed and promoted various brands such as MDNA Skin, Cheetos, Virgin Hotels Chicago, and Chicago Bears.
That combined with her impressive annual income, sums her total net worth to be over $1 million.
Her official net worth is, however, yet to be revealed.
Also Read: Brandi Passante – Bio, Husband, Net Worth, Early Life