Daniel Jacob Radcliffe is an English actor and producer popularly known for his on-screen portrayal of Harry Potter in the Harry Potter film series. As Harry Potter, he became one of the highest-paid actors in the world and received many accolades for his performances.
Radcliffe expressed his desire to pursue acting at age 5, and five years later, he made his on-screen debut in the film David Copperfield. Other films Radcliffe has featured in include, The Woman in Black, Kill Your Darlings, and Now You See Me 2.
This piece will look at Daniel Radcliffe's sexuality and dating life. We can confirm that Daniel Radcliffe is not married.
Radcliffe ended speculation that he is gay by dating Rosie Coker
In the mid to late 2000s, Daniel faced gay rumors allegedly because he has a gay face. He told The Daily Express: "I had to smile when stories emerged questioning whether I was gay. Obviously I knew I wasn't but people were curiously desperate to suggest I was."
Daniel's relationship with Rosie Coker shut down those rumors. The couple started dating after meeting on the Harry Potter set in 2007 but went public with their relationship in 2011. "I decided a long time ago to be open about everything in my life so when photos appeared of me and Rosie together I confirmed we were dating and it put an end to the rumors," Daniel added.
Radcliffe affirmed that he isn't gay, but voiced his support for the gay community. "When you know a gay guy has a crush on you it's the most flattering thing," he said.
Daniel and Rosie ended their relationship in October 2012. The couple had a low-key breakup, with neither party willing to discuss the split. "She's trying to move on," Rosie's father told The Daily Mail. "She won't want to talk about it."
Daniel Radcliffe has been in a long term relationship with Erin Darke since 2013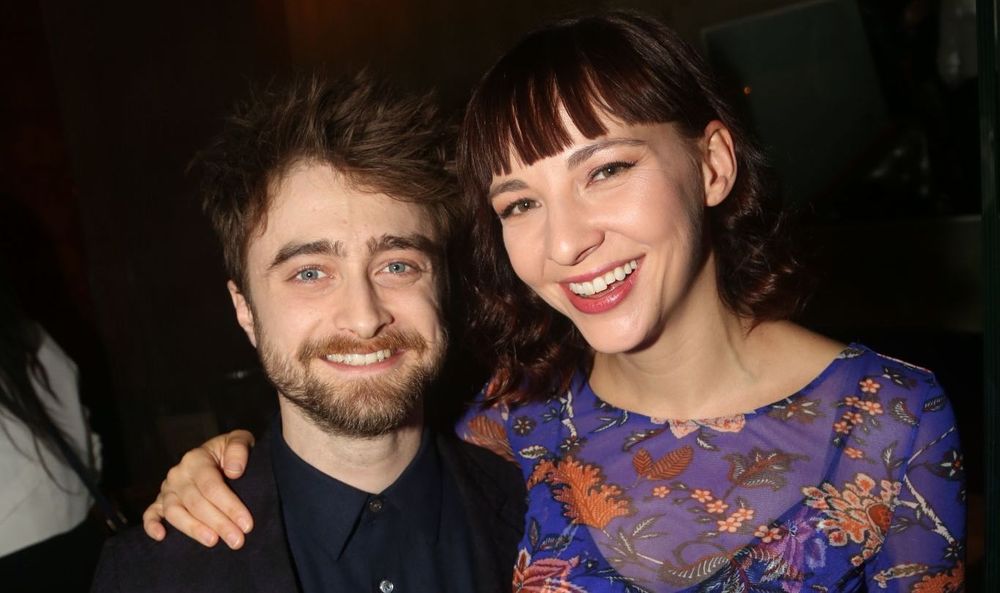 Radcliffe and Erin met on the set of the 2013 film Kill Your Darlings. Radcliffe admitted that he was attracted to Erin from the first scene they shot together. The duo played each other's love interests on-screen, and Daniel claimed that from his end, his feelings for Erin were real. "There's no acting going on – not from my end, anyway." Daniel told Playboy Magazine. Daniel told People that he looks forward to telling the couple's children about his first meeting with Erin:
"It'll be a hell of a story to tell our kids one day because of what our characters do with each other. Our characters are meeting and flirting with each other, so there is this kind of sweet record of us just meeting for the first time and flirting."
Erin told People that she and Radcliffe bonded over their love for acting. "We're both incredibly supportive of the other person's career," she said. Radcliffe is no stranger to praising Erin in his interviews. He told Us Weekly that he is privileged to be in a relationship with his best friend. He then told Radio Times that Erin enjoys and participates in his weirdness.
"It's like, 'Oh, I can all of that stuff and you don't mind,'" he told the publication. "'And you actually think it's fun too. This is fantastic!'" In March 2020, Radcliffe fell victim to a coronavirus hoax claiming that he was the first confirmed celebrity with COVID-19. The couple spoke to Vulture about the hoax and their quarantine setup. Erin told the publication that dating a celebrity like Daniel exposes her to plenty of weird stories:
"Dating a famous person teaches you very quickly that shit is weird sometimes. People are weird with fame sometimes."
---