Steven Stayner's incredible story features in the captivating Hulu crime drama Captive Audience. Aged seven, Stayner, a California native, was abducted by child molester Kenneth Parnell. Kenneth told Steven that his parents had given him away and that his new name was Dennis.
The abductor abused Steven and planned to use the boy to abduct more victims. However, Stayner skillfully sabotaged Kenneth's plans. Steven eventually escaped after Kenneth abducted another boy named Timmy White. Stayner and Timmy hiked to a police station 40 miles away from Kenneth's cabin.
Sadly, Stayner's triumphant return didn't last long, as he died several years after the daring escape.
Steven Stayner died due to head injuries caused by a motorcycle accident
In late 1989, Steven was riding his new Kawasaki motorcycle home from his job as a pizza delivery man when a car pulled out of the driveway just ahead of him. Unable to avoid the collision, Steven hit the driver's side of the vehicle.
Steven, wearing no helmet and riding with an invalid license, suffered severe head injuries. The driver, Antonio Loera, drove off, leaving Stayner helpless on the rain-soaked highway.
Steven passed away an hour after the accident at Merced Community Medical Center. His wife, Jody Edmondson, lashed out at Antonio for leaving the scene. Jody said (per The Spokesman-Review):
"I'm very, very, very angry. I've never been this angry. It would have been a lot different if this man who hit him stayed. If it's the last thing I do, I'll nail him if I possibly can. There's so much hate right now."
JP Miller, the co-screenwriter of I Know My First Name Is Steven, a mini-series about Stayner's abduction and escape, said Steven struck him as a man unafraid of death. Miller told People:
"He was kind of a reckless kid after he came back home – he wrecked a couple of cars – and I talked to him about being careful, because he could kill himself. He said, 'What's dying?' – like so much had already happened to him, what was dying compared to that?"
Steven died nine years after he returned home. Sadness engulfed the community as people mourned a life blighted with tragedy. "It was a sad end to a tragic life," Allen Maxfield, CHP traffic safety officer, said.
Timmy White, the boy saved by Steven, learned of his death through his grandfather. White, despite losing touch with Steven and remembering little about his brief abduction, was a pallbearer at Stayner's funeral.
"I feel bad for him," White said. "He had a pretty sad life."
Steven has rebuilt his life and looked forward to raising his two children
By the time Steven returned home, he'd spent more than half his life in captivity. He barely knew his parents, and his parents scarcely knew the teenager who'd returned home.
At the time, the concept of therapy was frowned upon, and his father insisted that he didn't need any counseling. "He [Steven] got on with his life but he was pretty messed up," Steven's sister said in 2007.
Steven refused to reveal the details of his sexual abuse and endured bullying in school for being molested. Stayner dropped out of school and started a drinking habit that strained his relationship with his dad.
Thankfully, Steven rebuilt his life after wedding Jody Edmondson. He worked with child abduction groups and talked about children's safety. Shortly before his death, Steven had joined The Church of Jesus Christ of Latter-day Saints.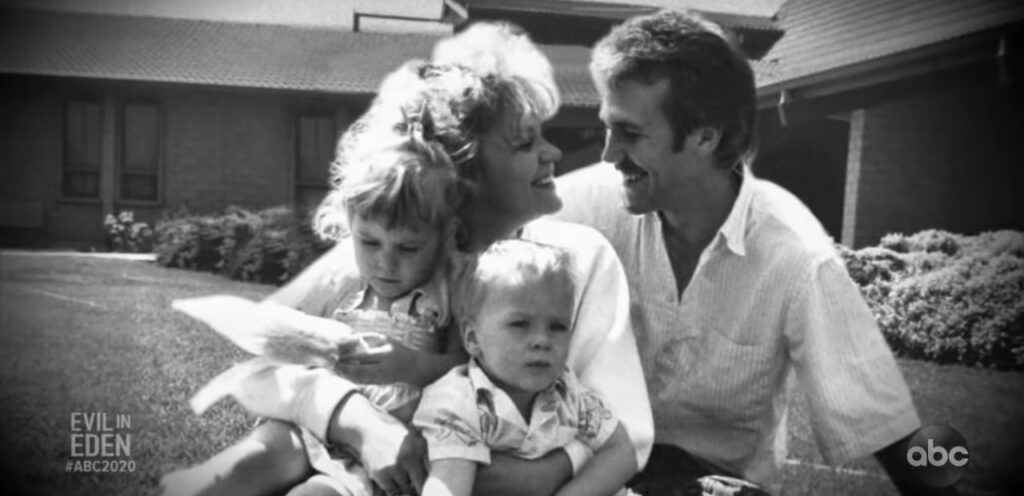 Stayner looked forward to raising his children, Ashley and Steven Jr, with Jody. He told The San Jose Mercury News that watching his children play was 'like having another childhood – the childhood I didn't have.'
"Steven was bravely going about reconstructing his life," JK Miller said. "He didn't complain. He didn't whine about lousy breaks. He was just a great kid with a good heart."
Jody emotionally described how she and Stayner planned to visit their favorite restaurant after he got home. Steven's parents, Kay and Delbert, were on a camping trip when they learned of the passing.
Sandra Hawkins, a family friend, told People that Kay stayed strong during the abduction but was totally crushed after learning of Steven's death. Hawkins said:
"She was the one who stayed so strong and calm and collected through that seven-year-ordeal. But her strength is waning now. This is the hardest thing she has ever had to face, and she just can't talk to anybody. Del is devastated too. But this time he's the one who is staying strong for Kay."
Delbert mourned the tragedy but expressed relief in the certainty of death. "It's final this time," he said. "I know where Stevie's at now."
Read Next: Bonny Lee Bakley's death — The accusations behind her unsolved murder
---